Extra cheesy Jalapeno Omelet recipe! My favorite Summer time breakfast!
The truth is that I made these Cheesy Jalapeno Omelets for the first time in June. It was was when the jalapeno plants in the garden started exploding with peppers all over each plant. And then after I tasted it for the first time I knew I had to share the recipe with you guys. Now it's November and the recipe is finally here. What has taken me so long? Well I've just been eating these Cheesy Jalapeno Omelets nonstop!
What do you have for breakfast, is it usually a quick meal or do you like to sit down with it? I don't really like meal rushing, so usually I sit down for every meal. Breakfast ranges from toast and a banana to something more savory, like scrambled eggs or a omelet. On weekends it tends to get sweet with homemade pancakes and waffles. Right now I'm all about pumpkin pancakes, YUM. But back to this omelet.
Jalapeno Omelet Recipe
The basis of this recipe is my favorite scrambled eggs recipe. Not to brag, but they kinda have been declared the best scrambled eggs by many eaters, so yeah. It's a good start. This recipe for eggs has been with me for a long time and I pretty much stick with it as it's my favorite. Throw in some cheese and chopped up jalapenos, fold the eggs instead of scrambling and the Cheesy Jalapeno Omelet is born.
First, you'll need one jalapeno to make 2 omelets. Then you want to chop it up. Here's some jalapenos that are still growing, even though it was October! We have a big bag of them in the kitchen. Jalapenos also freeze great if you want to throw them in the freezer to make them last longer.

Then you want to start preparing your omelet mixture. The mixture is pretty simple. It's eggs, milk, salt and jalapenos. You'll also need some cheese but you won't need that for a few more minutes.

When the omelet seems firm, then you'll want to add the cheese on one side and fold it up. Then I like to fry it a little longer to get those nice crispy edges.

This omelet is deluxe in size and serving. You don't need to serve it with anyone else for breakfast as it's filling. It's the perfect savory treat to start the day off.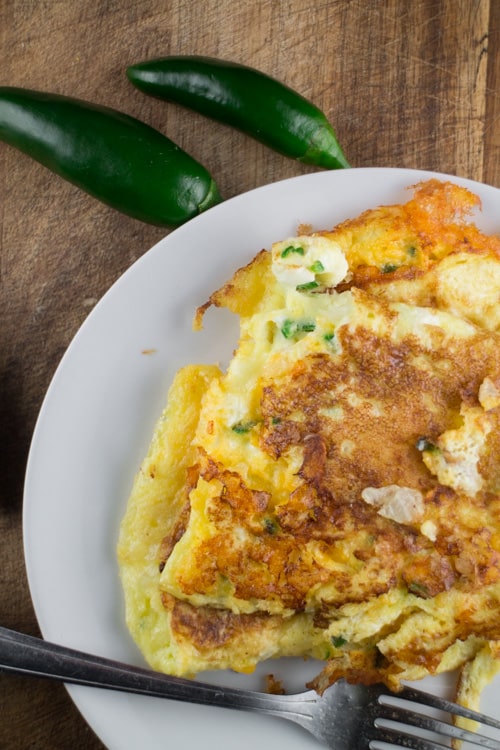 The smell of the cheese and the jalapenos really pushes it to that next level. A few days ago I brought a omelet to surprise Matthew at work and the smells brought many people to the kitchen.

Now take a little bite and eat up! Enjoy!

Cheesy Jalapeno Omelet
2014-10-12 19:36:54
Ingredients
6 eggs
6 teaspoons of milk
1 teaspoon of salt
1 jalapeno - seeded and chopped
1/4 cup of cheddar cheese
1 tablespoon of butter
Instructions
Crack eggs open and add them, milk, salt and jalapenos to a bowl. Beat eggs with fork to mix everything together.
Take 1/2 of the butter and put on a medium high skillet.
Once butter is heated up then pour 1/2 of the egg mixture into skillet.
Cook omelet until firm, and then add 1/2 of the cheddar cheese to one side. Fold the other side over making a omelet.
Continue to cook for 1-2 more minutes until sides are crispy.
Remove from heat and serve.
Continue making the next one by repeating the exact instructions above.
Notes
This makes 2 omelets.
Brooklyn Farm Girl https://brooklynfarmgirl.com/
You may also like:
The Best Fluffy Buttermilk Waffles