Easy step by step recipe instructions on how to make Stovetop Cinnamon Vanilla Granola! Once you realize how easy it is to make, you'll never buy it in the store again!
Do you love granola?
I know a boy who does. It's my other half, Matthew. He loves it. Last week Matthew became obsessed with granola again. He goes through these spells of loving it. There was a time last year where he was ready to have his midnight snack in bed and he realized he was out of granola. What did he do? Did he pick to eat something else? No, he got on his bicycle and ran to the grocery store at midnight to buy more granola.
Talk about dedication.
So yesterday we ran out of granola again. I went to the grocery store and I couldn't get over the prices of it. Can someone explain why granola is so expensive? Seriously, $8 for 10 ounces? They are crazy.
So after I got over (or didn't get over) my sticker shock I decided to head back to my kitchen and make my own granola. The benefits of making your own granola is that it's much cheaper, you control the ingredients and you get to throw on your kitchen apron. I love wearing my kitchen apron. Total side note, but did you notice that as soon as you take your apron off in the kitchen, that's when something splashes on you? It always happens.
Ok back to the granola. I wanted to make a quick granola. So welcome Stovetop Granola in your life!
What do you need for this Stovetop Granola recipe? First you need a saucepan. Now I have to show you the new love of my life. Are you ready to swoon with me? Here it is!

OOOOH! AHH!
Look at the color on that beauty! It's called "flame" because it sets my life on fire.
It's my new Le Creuset Signature saucepan and I'm in love with it. Matthew keeps asking if I have to take it to sleep at night and I'm like "duh". You know, it's just me, Matthew, 4 cats and my Le Creuset tucked into our bed. Talk about a happy family!
This saucepan pretty much makes cooking more fun (if that's possible) due to the splash of color and how amazingly functional it is. It keeps everything hot for so long. Like my love for it. Sorry guys, kinda crushing hard on this guy. I think I should name him. How about Mr. Love?
Now seriously back to the granola (I promise).
Melt your ingredients in your saucepan (pictured here inside Mr. Love).

Then add your quick oats and stir for around 5 minutes. Make sure to get that wet mixture all over those oats.

Spread on a cookie sheet and bake for 8 minutes.

BOOM! Look at this crispy granola!

I like to let mine cool for about 30 minutes and then break it up. And by break it up I mean rip off large chunks and throw them directly into my mouth.

This spoonful probably went into my mouth too.

Enjoy!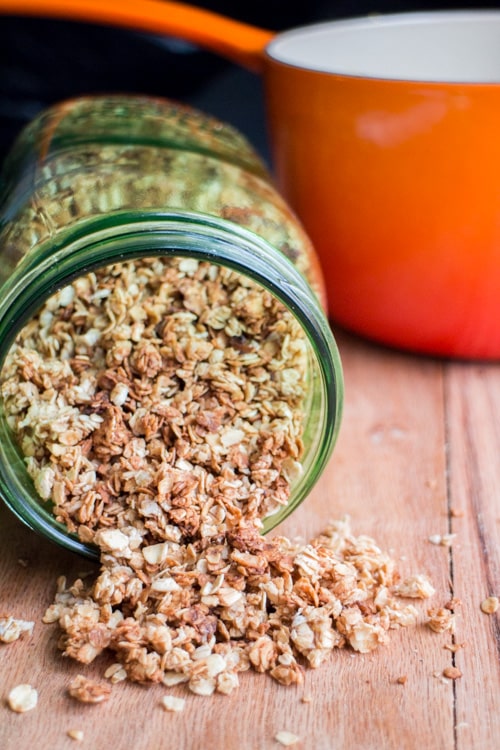 Stovetop Cinnamon Vanilla Granola
2014-10-02 17:25:01
Ingredients
2 tablespoons honey
2 tablespoons brown sugar
1 teaspoon vanilla
2 tablespoons butter
1/2 teaspoon cinnamon
3 cups quick cooking oats
Instructions
Add honey, brown sugar, vanilla, butter and cinnamon to saucepan over medium high heat until melted.
Add oats and cook for 5 minutes.
Pour on cookie sheet and bake at 400 degrees for 8 minutes.
Let cool for 30 minutes and then break up into granola bits.
Store in jar or plastic bag.
Brooklyn Farm Girl https://brooklynfarmgirl.com/