Fresh Pasta Salad recipe that tastes just like Summer! Recipe ingredients include cherry tomatoes, radishes, green pepper, lettuce and mushrooms! This is perfect for a healthy dinner or picnic lunch.
Guys, it's August 21st. We're in the 20's already! Soon it will be September! September…already? Don't get me wrong you know I love Fall, Halloween and everything that comes along with it but there will be a few memories I miss from Summer. It's not over yet, but that doesn't mean I can't be dramatic and romantic about the sweltering garden days of picking tomatoes, weeding out the boxes and nurturing seedlings to grow big and strong.
A basket full of harvest is one of the proudest things I could carry. Seeing the fresh colors of red, green, yellow and more topple over the basket makes me a happy girl. Although we're picking tomatoes, lettuce, radishes and melons as the Summer continues, we're also getting ready for the Fall garden. Some plants have already been transplanted while others wait their turn downstairs for containers to be cleared away on the roof. There seems to never be a empty day in the garden, there's always something that needs to be transitioned and moved in or out.
While Summer is here, let's enjoy it in this Fresh Pasta Salad. To me the season is not complete without a cold pasta salad to dive into. For this recipe here I'm really layering in freshness with cherry tomatoes, radishes, green pepper, lettuce and mushrooms! What a combo, right?
Enjoy the end of August and enjoy this Pasta Salad!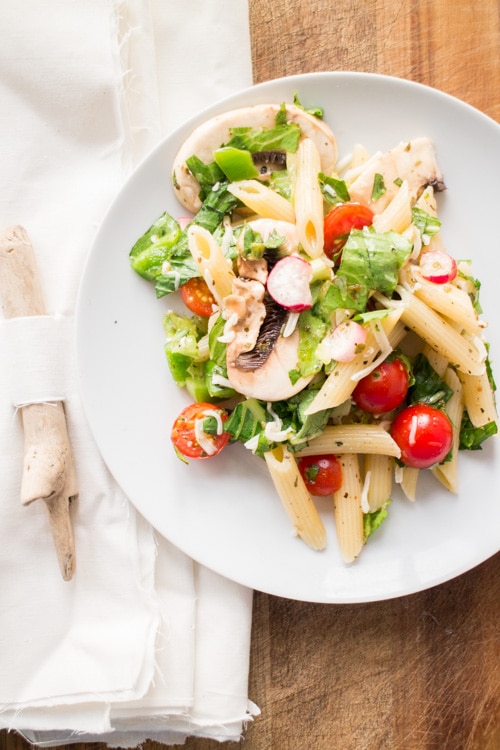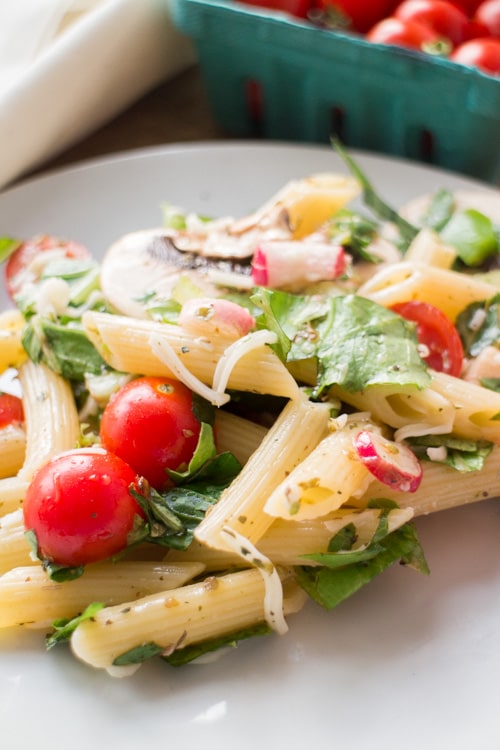 Summer Fresh Pasta Salad
2014-07-29 22:59:14
Ingredients
12 oz penne pasta
1 pint of cherry tomatoes (halved)
1 green pepper chopped up
3 radishes chopped up
1 packed cup of lettuce chopped up
1/2 sliced mushrooms
1/2 cup Italian salad dressing
1 tablespoon dried basil
1 tablespoon dried oregano
1/2 cup shredded mozzarella
Instructions
Prepare your pasta as directed. Drain.
Put your pasta in a big bowl.
Add your chopped vegetables, salad dressing and dried herbs.
Mix together so everything is coated in salad dressing.
Add in your mozzarella cheese, toss around.
Cover, put in fridge to chill.
Enjoy!
Brooklyn Farm Girl https://brooklynfarmgirl.com/
You may also like:
Cold Peanut Butter Pasta Salad