20 Sweet and Summery Watermelon Crafts & DIY Projects for kids of all ages! You're going to love making these creative projects with preschoolers, toddlers and teens! Ideas include everything from magnets, pillows, pinatas, painted bowls, planters, easy paper plate crafts and more!
Watermelon Crafts
Summer is all about watermelon season! Who doesn't like a big piece of sweet watermelon to eat on a warm day? Watermelon just doesn't have to live in your garden or kitchen! Why not make it a fun weekend activity to do with your kids?
The list below features 20 Sweet and Summery Watermelon Crafts & DIY Projects that you can all do with your kids! All of them are relatively quick to do and results in a keepsake craft that everyone will love!
Watermelon Decorations
How cute is this DIY Hand Painted Watermelon Flower Pot from mommymoment.ca? Grab a cheap pot from your local nursery (or Amazon!) and paint it to house a plant or some herbs in!

Is it a hot afternoon? Then make a super cute Paper Plate Watermelon Fan from craftsbyamanda.com!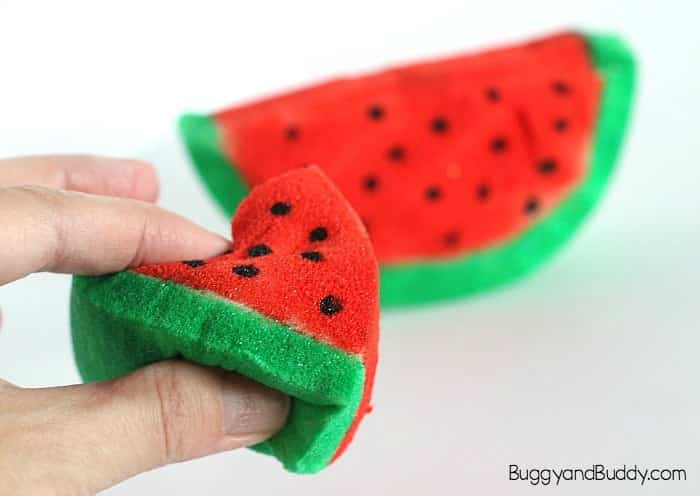 Squishy toys are all the rage right now! So make this DIY Watermelon Squishy Toy from buggyandbuddy.com.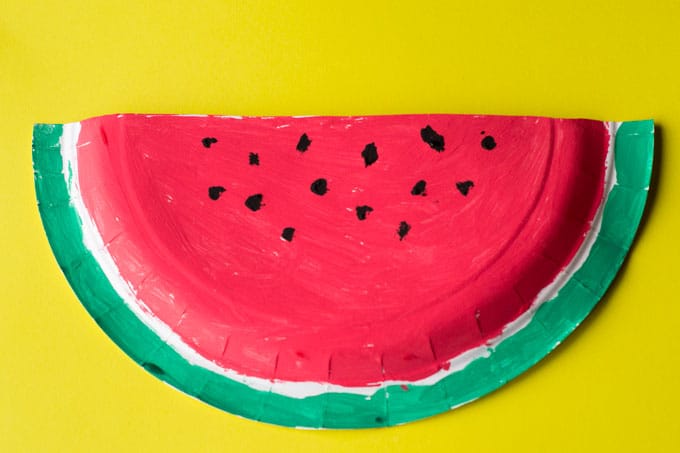 I love this easy craft because pretty much any aged child would have a blast with it! I bet you even have the supplies to make this Watermelon Paper Plate Craft from gluesticksgumdrops.com in your house now!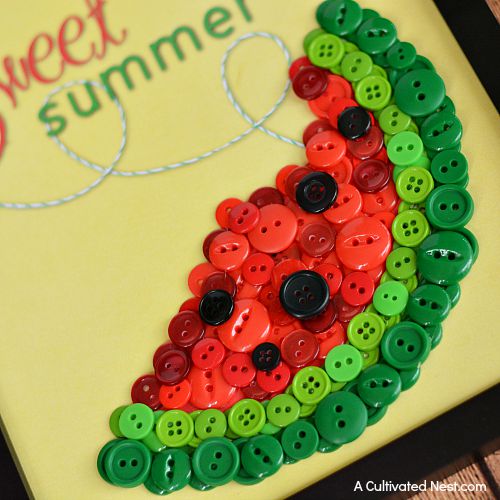 This Easy Watermelon Button Craft & Free Printable from acultivatednest.com would make such a fun craft to add on a card or to frame!

I love these glittery DIY Watermelon Coasters from madetobeamomma.com. After you make them why not make a refreshing strawberry smoothie to go with?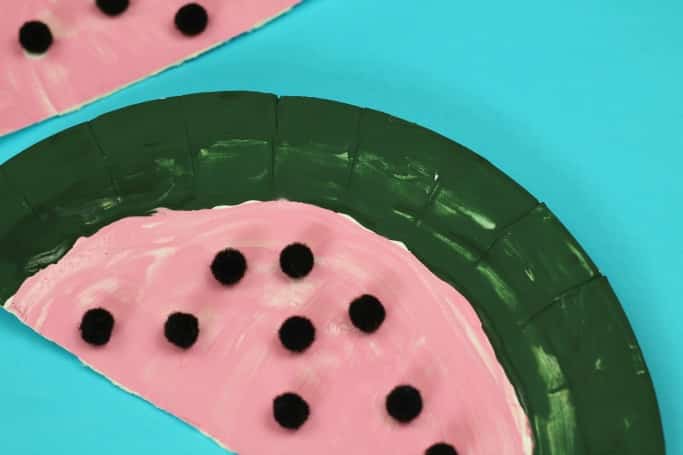 Here's another Paper Plate Watermelon Craft from craftsonsea.co.uk, but in this one you can add black pom poms for seeds!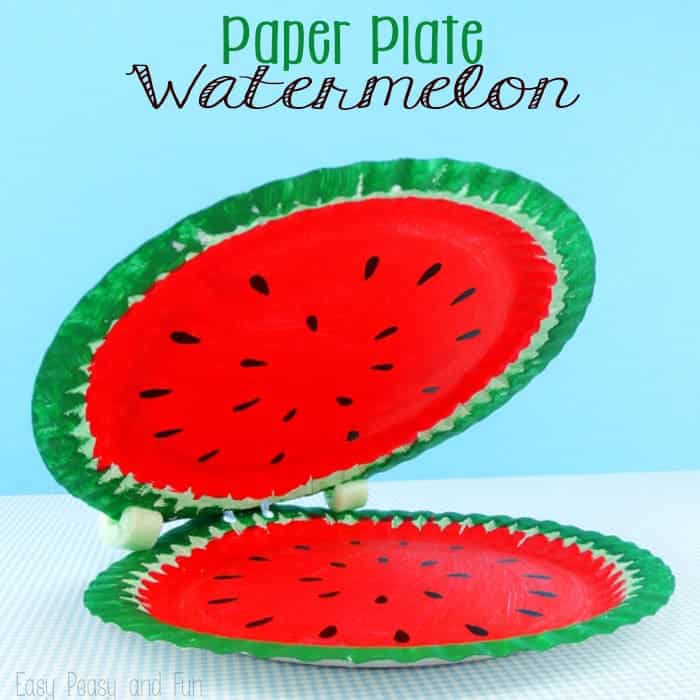 Here's a cute Paper Plate Watermelon Monster from easypeasyandfun.com that will keep your kids busy, and you running around the house away from the watermelon monster that's chasing you!

Cute Craft Stick Watermelon from craftsbyamanda.com that you can gift to Grandma to hang in her kitchen!

These Watermelon Wedges from momsandcrafters.com are a fun toy for pretend play. They're a great way for kids to learn to count too!
I'm in love with this Watermelon Painted Wood Bowl from positivelysplendid.com. Why not fill it up with some popcorn and enjoy a movie?
When I was a little girl I was obsessed with paper fans, that's why I can't wait to make this DIY Paper Fan from redtedart.com!

Do your kids love reading? Then make these Summer Fun Popsicle Stick Bookmarks from homanathome.com! I'm sure you can think of some other cute ideas too!

You really don't need a reason to throw a party! Make this Watermelon Medallion Banner from bugaboocity.com, put on some dance tunes and have your own private party with your kids!

Do you have a fashionista in your life? Make these Watermelon DIY Wooden Bracelets from linesacross.com and strut your stuff in a living room runway show!

Is your refrigerator filled with pictures and art work? I need these DIY Watermelon Magnets from clubcrafted.com!

Hope you enjoyed these 20 Sweet and Summery Watermelon Crafts & DIY Projects!
Looking for more craft ideas? Check out my Outer Space Crafts for Preschoolers.
Looking for watermelon recipes? Try my Watermelon Jam and Watermelon Soup!
Pin for later: