No Bake Pumpkin Cream Pie recipe! This pie is so easy to make! Ingredients include instant Pudding, Cool Whip and pumpkin puree.
"It's too early for pumpkin" is one statement you'll never hear me say. Never ever.
It's always time for pumpkin Always. That's why I start the day with these Pumpkin Pancakes and end the day with this Pumpkin Cream Pie! Hah.
Because I have so much pumpkin love we grow pumpkins twice a year, so we have a few to harvest in the Summer and a few to pick in the Fall. Fall's pumpkins are already planted and have started to produce a few flowers. We were planned to have 2 pumpkin plants but somehow we have 10. I say "somehow" because the truth is this is my doing. I always want more pumpkins so I saved all the seedlings and secretly planted them. Surprise, a rooftop pumpkin patch! A dream come true (I hope!)….
Pumpkin Cream Pie recipe
This weekend I took these 2 beautiful pumpkins we grew and gave them a good roasting to make homemade pumpkin puree. This is my walkthrough on how to make your own pumpkin puree, it really is the best.

I'm always amazed by how much fresh puree can come out of pumpkins. Puree can then be frozen to enjoy baked pumpkin treats for the next few months. Think pumpkin bars, pancakes, waffles, pies, pudding and more! Here's 4 cups worth just singing my name to come bake with it….

And with today being the first day of September (!) I think we all have pumpkin on our minds. Soon the word will be popping up in our RSS feeds and magazines. Pumpkins and red leaves will soon be spotted on sidewalks and store shelves. Let's get in the Fall mood with some Pumpkin Cream Pie. Is there anything that says hello Fall more than this?

This Pumpkin Cream Pie has all the workings of a magical treat. There's vanilla pudding mix, pumpkin puree (canned pumpkin), pumpkin pie spice, Cool Whip and milk all poured into a pie crust.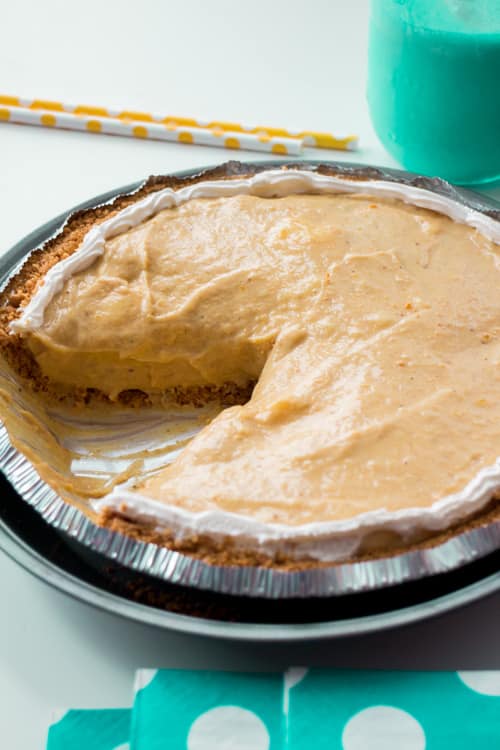 The pumpkin puree and pumpkin pie spice gives it that Pumpkin Fall flavor we all love so much. And isn't everything just a little bit yummier when it's included with a graham cracker crust?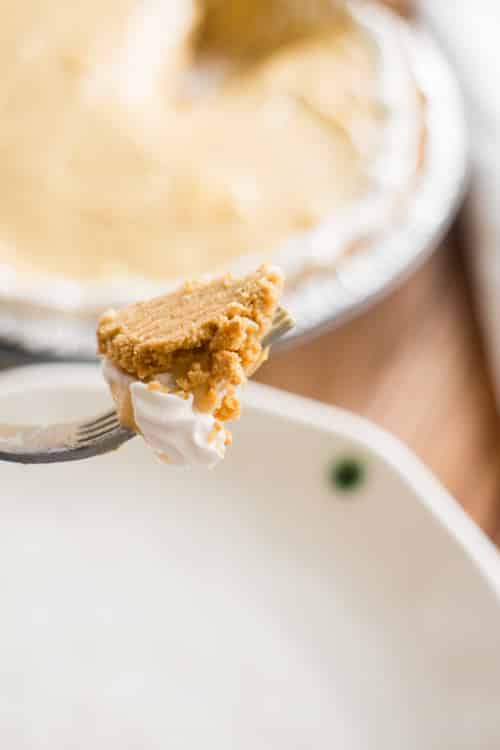 So go ahead and dive into Fall. Dive right into this Pumpkin Pudding Cream Pie.

Pin for later:

Pumpkin Cream Pie
No Bake Pumpkin Cream Pie recipe! This pie is so easy to make! Ingredients include instant Pudding, Cool Whip and pumpkin puree.
Ingredients
1 1/2

cup

milk

2 3.4

ounces

packages of Jell-O Vanilla Instant Pudding Mix

1

cup

pumpkin puree

1

teaspoon

pumpkin pie spice

1

cup

Cool Whip

1 9

inch

graham cracker crust
Instructions
Combine milk and pudding mix in deep bowl. Mix with hand mixer for a few seconds to combine them.

Add pumpkin puree, pumpkin pie spice and Cool Whip to bowl and mix on low speed until all is combined.

Pour filling into graham cracker crust.

Put in refrigerator for at least 5 hours, preferably over night, to set.

Serve and enjoy.
Are you excited for Pumpkin season? Tell me in the comments!
You may also like:
Pumpkin Roll With Cream Cheese Filling