You'll love how easy this Pumpkin Pancakes recipe is! These delicious extra fluffy pancakes made from scratch are low carb and packed with protein (1/2 cup pumpkin!). They make a healthy substitution instead of buttermilk pancakes. My family considers them "the best pumpkin pancakes in the world!".
I know you're probably thinking "Isn't NYC in a snowstorm right now, but yet you're posting a pumpkin recipe?". You're right. NYC is under a blanket of beautiful white snow. And I still have over 100 pounds of pumpkins from the Fall garden decorating my apartment. Can you believe it? We have big pumpkins, pie size, and munchkins sprawled out all over the apartment just like it was still Halloween. I have to clear a few out as they go bad, but at this rate I think I'm good to go with fresh pumpkins for at least the next few months!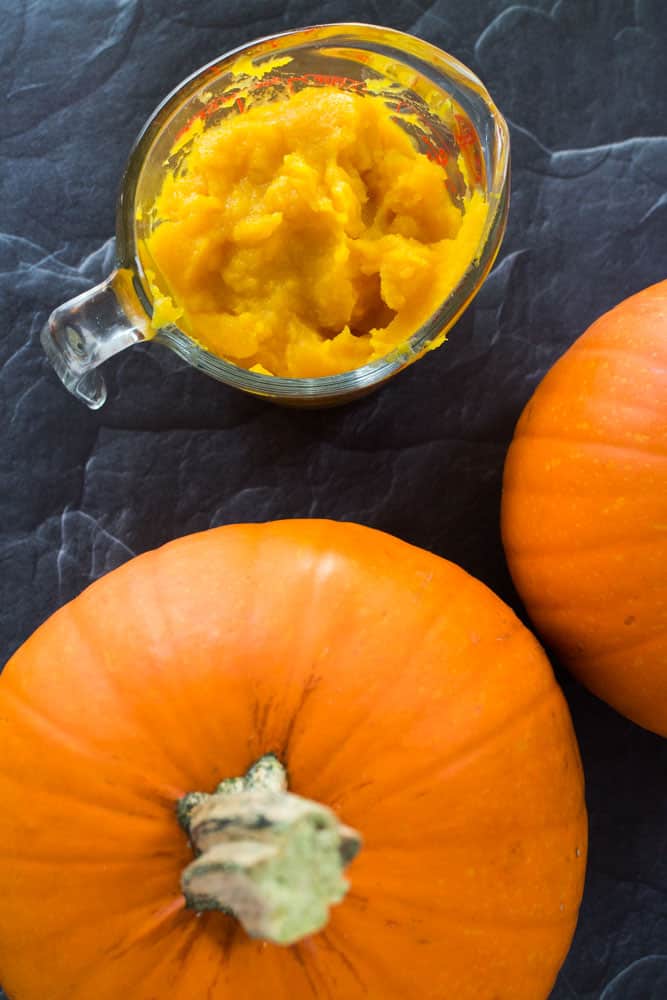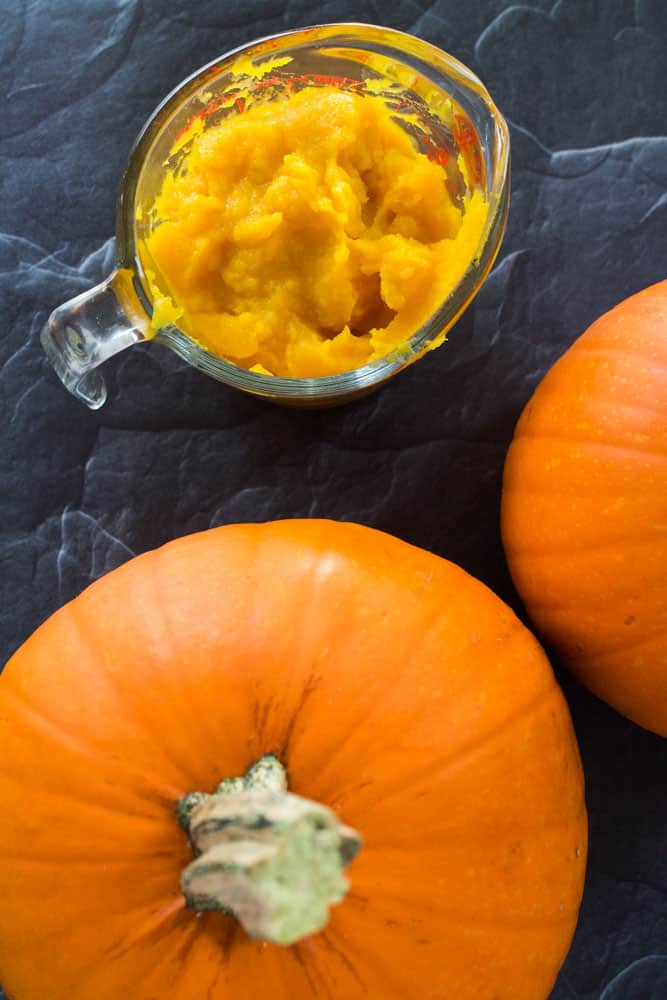 Being a girl who loves pumpkin year round and doesn't believe that pumpkin only needs to be celebrated in the Fall I wanted to bake up a pumpkin breakfast to satisfy my pancake craving I've been having (hello baby!). Pumpkin pancakes are one of those foods that are near perfection for me. Throw a little dab of butter on top, definitely add some maple syrup and you have the perfect breakfast (or dinner!). These pancakes are fluffy, moist and have a delicious flavor of pumpkin and spices to take them to that next level. Pumpkin pancakes, I love you.
If you don't have any fresh pumpkins lying around in March, don't worry. You can use frozen pumpkin puree that you kept from your Fall pumpkins (remember how easy it is to make?) or you can use canned pumpkin. Either way, I hope you enjoy these Pumpkin Pancakes soon!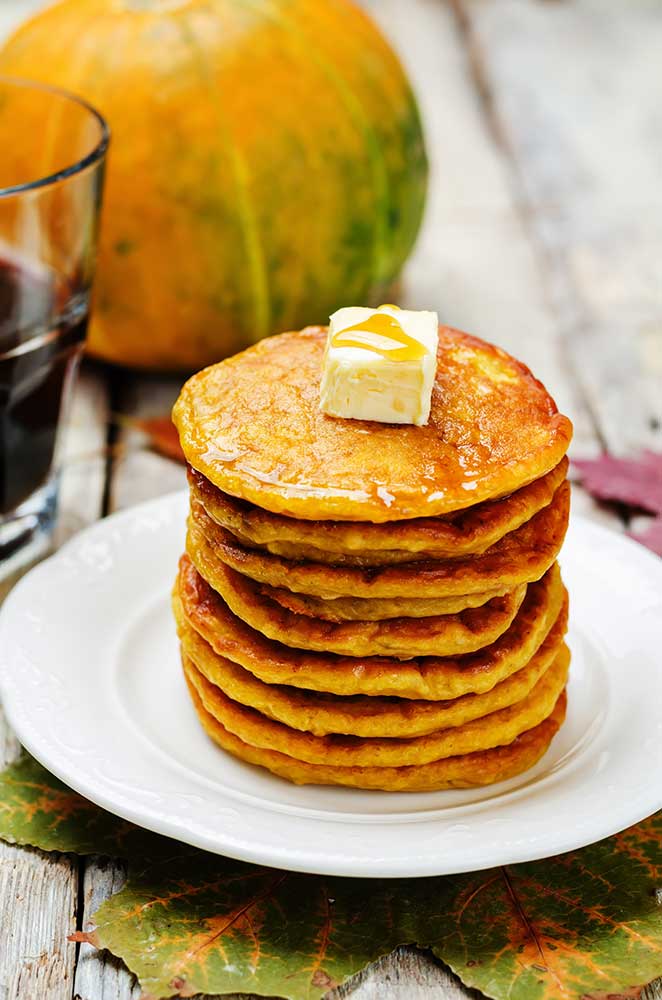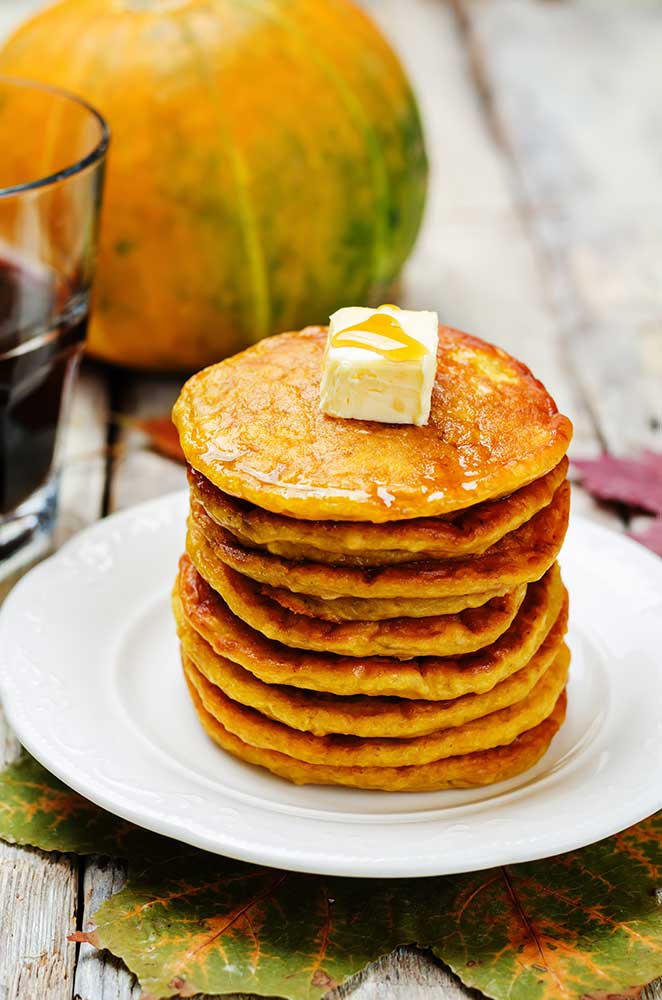 Easy Pumpkin Pancakes
2017-03-14 21:48:24
Ingredients
1/2 cup flour
1/2 teaspoon pumpkin pie spice
1 tablespoon sugar
1/4 teaspoon salt
1 teaspoon baking powder
2 eggs
2 tablespoons melted butter
1/2 teaspoon vanilla extract
1/2 cup milk
1/2 cup pumpkin puree
Instructions
In large bowl mix together flour, pumpkin pie spice, sugar, salt and baking powder.
In smaller bowl mix eggs, butter, vanilla, milk and pumpkin.
Add wet ingredients to dry ingredients bowl and mix until smooth.
At this time if you think the batter is too runny, add a little bit more flour (1-2 tablespoons) until thicker.
Spray pan or griddle with cooking spray and put on medium high heat on your burner.
Add 1/3 cup batter per pancake, fitting in as many as can in the pan.
Cook pancakes until light brown and then flip to the other side.
Enjoy - serve with butter and maple syrup.
Brooklyn Farm Girl http://brooklynfarmgirl.com/