EASY delicious Homemade Scones that are perfect to serve with clotted cream, jam and tea! This is a one bowl recipe that creates crumbly English soft scones – just like at a tea house. The secret to this recipe is sour cream! Add blueberry or raspberry to them to make them berry flavored!
Scones have been on my "must conquer" recipe list for quite some time. Making the perfect scone is hard and I usually was left with something that was dense and cake-like and not crumbly and light, how scones should be. But no more – scones, I've come and conquered you. I'm in love with this recipe so much that I worry I'm going to be making these at least twice a week because they've become our new favorite afternoon snack (I always have one with my daily tea!). Make sure to serve them warm with clotted cream and jam. If you want to add fruit to them, you can totally can, just read my FAQ below for help. Enjoy!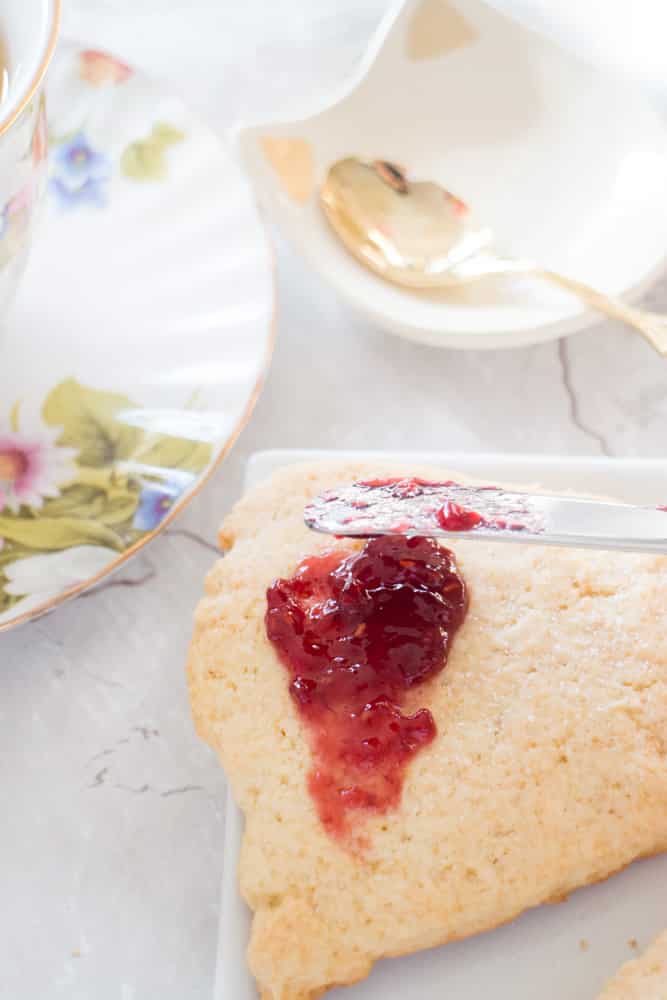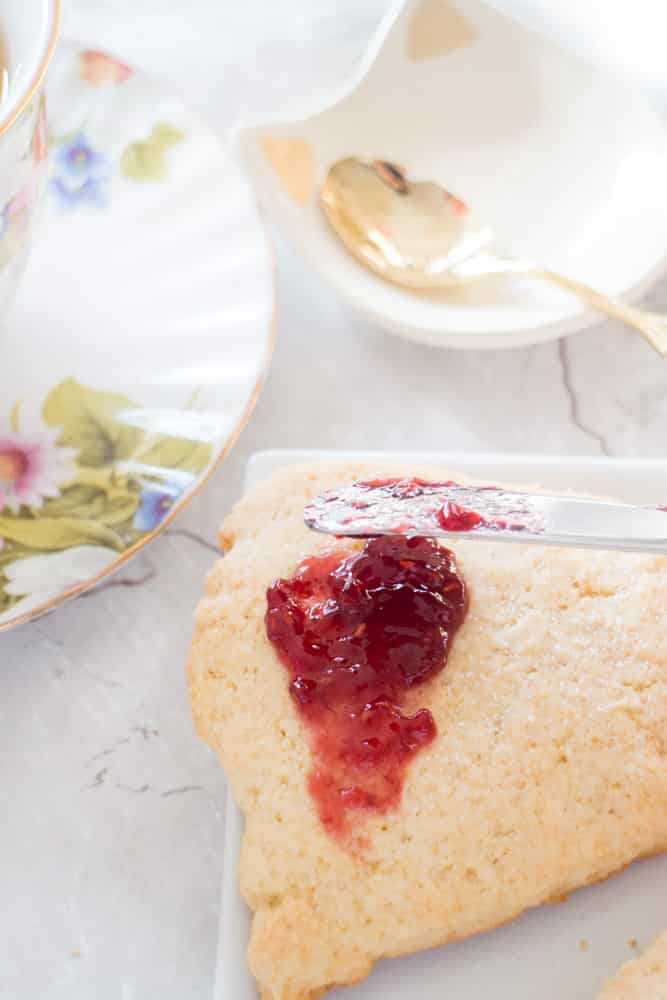 FAQ for this recipe:
Do I need a food processor for this?
In theory, no, but it makes the scones much easier to make and gives them their signature crumbly scone texture. If you don't have a food processor you can mix by hand but just make sure you really get that butter to a crumbly coarse texture. To do this you might want to try grating the butter separately to get it crumbly. In general I think a food processor is a kitchen must have and once you have one you will quickly be using it a few times a week and wonder how you lived without it.
Does my butter need to be chilled?
Yes, the butter should be chilled or frozen. Using room temperature butter will not result in crumbly scones.
Can I add berries/raisins/chocolate chips to these?
Absolutely. After making the dough add 1/2 cups of preferred add-in (I love raspberries) and stir them to combine with a wooden spoon. DO NOT PULSE FOOD PROCESSOR WITH ADD-INS!
Do I have to use sour cream?
Yes! Sour cream is going to make them extra soft. If you're worried about them having a sour cream taste don't worry – they don't (and this comes from a girl who doesn't like sour cream!).
How many servings does this recipe make?
I like to cut my dough into 8 big scones, but you could easily cut it into 16 smaller scones.
What is clotted cream? You recommend serving with it.
Clotted cream is life changing and whenever possible your scones should be enjoyed with it. It's a rich, cream spread – kinda similar to butter but thicker and more sweet. It's kinda a butter/ice cream mixture if that makes sense at all. Clotted cream is made by slowly cooking heavy cream for many hours until it thickens up. You can google recipes on how to make it if you'd like. It's easy to make but takes lot of time and needs quite a bit of heavy cream. You could also just buy it like I do.
Can I put icing on top of the scones?
You sure can but I'd recommend using a light icing if you do. In my opinion clotted cream and jam are so much better on scones than icing.