CHOCOLATE SPRINKLED BROWNIES made with BLACK BEANS and APPLESAUCE (healthy and low calorie!) that are easy to make! These homemade chocolate brownies are super fudgy and moist! My family considers this the BEST brownies recipe! The rainbow sprinkles on top make the brownies really pretty!
Right now I'm bean obsessed. We've been cooking our dry black beans we grew in the garden during the Summer on cold nights and it's been such a treat to enjoy those grown with love beans during the Winter. I'll be sharing a "How to Grow Black Beans" DIY soon because they're so easy to grow and for me they're one of the proudest garden accomplishments! I mean seriously how cool is it to grow your own beans? So cool! What else is cool? Using black beans to make chocolate brownies! Did I mention that they're extra delicious too?
You might associate black beans with tacos, salsas and salads pretty easily, but hopefully I'm able to persuade you to try baking with them because they make delicious desserts too. In the past I've baked with black beans, kidney beans, red beans and have had yummy results so I wanted to use our black beans in a new super chocolaty brownie recipe. This recipe calls for 1 15 oz can of black beans which you'll add with the rest of your ingredients into a blender and pulse until smooth. Because I wanted to use my homegrown dry beans, I did a overnight soak of my beans and then cooked them to get my 15 oz can worth. It's a little extra work with dry beans, but it's worth it if you want to give it a try. If not, it's totally ok, just make it easier for yourself by using canned beans!
Here's my garden beans, dry and cooked.

Can we take a minute before we admire the brownies to admire how gorgeous these black beans are? Swoon! I can't wait for Summer gardening!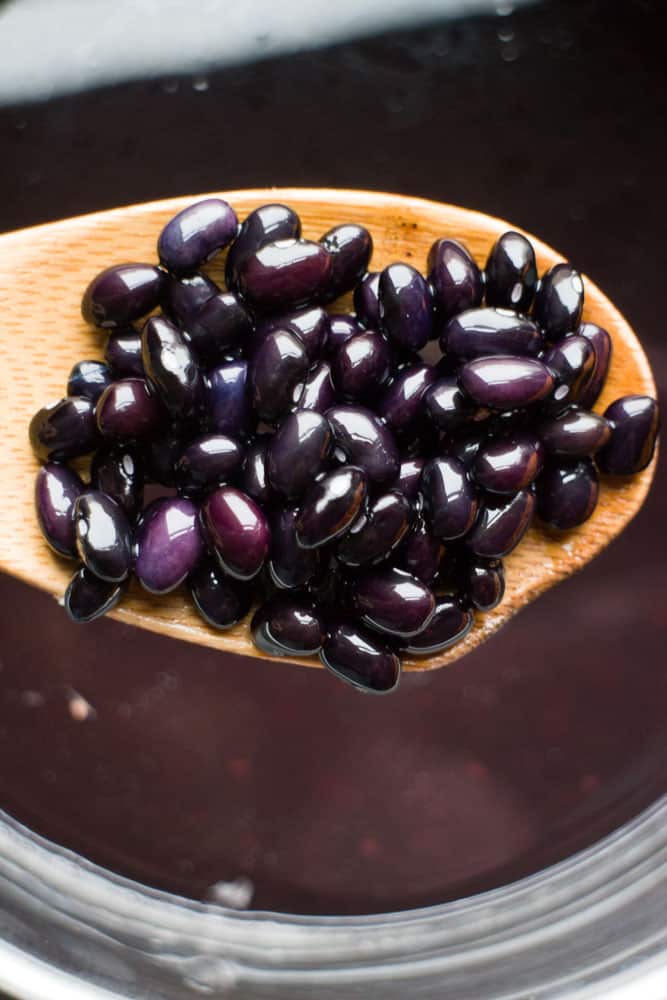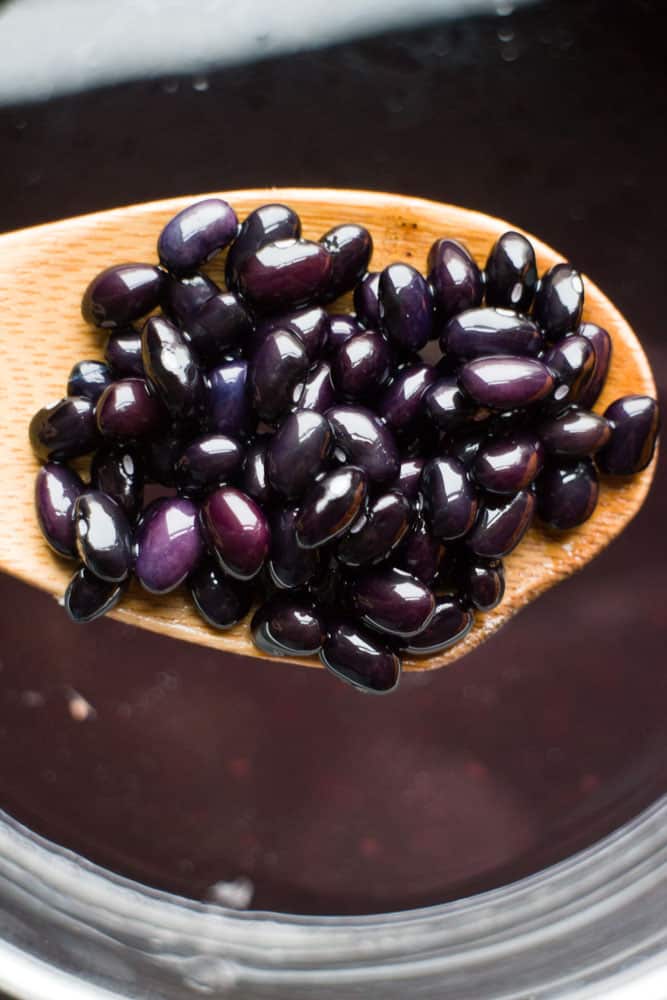 Ok and time to admire these brownies…. Double Chocolate because of the cocoa powder and chocolate chips, but really Triple Chocolate if you add chocolate frosting on top like I did. Swoon!

I love this recipe because it's so easy to make. Just throw all your brownie ingredients in a blender or food processor, pulse a few times, put into a 8×8 pan and bake. It's that easy. Once it comes out of the oven you can enjoy as is, or you can add frosting. I love frosting so I had to add my favorite homemade frosting recipe on top and loads of rainbow sprinkles. Because these brownies have a cake like texture these make a great birthday treat!

I hope you give this recipe a taste! Enjoy!

Chocolate Birthday Cake Black Bean Brownies
2017-01-18 18:48:27
For the brownies
1 (15 oz) can of black beans - rinsed and drained
3 eggs
1/4 cup apple sauce
1/4 cup cocoa powder
1 teaspoon baking powder
1 pinch of salt
1 teaspoon vanilla extract
3/4 cup white sugar
1/2 cup chocolate chips
For the frosting
2 3/4 cups confectioners powdered sugar
6 tablespoons cocoa powder
6 tablespoons butter
5 tablespoons milk
1 teaspoon vanilla extract
Additional
Rainbow Sprinkles
For the brownies
Preheat oven to 350 degrees.
Spray a 8x8 pan with nonstick spray.
Add black beans, eggs, apple sauce, cocoa powder, baking powder, salt, vanilla and sugar in a food processor (or blender) and pulse until smooth. Pour mixture into 8x8 prepared pan.
Add chocolate chips into pan and stir around.
Bake for 37-40 minutes, or until toothpick comes out clean.
Remove from oven and allow to cool for 15 minutes. Spread frosting on top and then add sprinkles. Cut into individual brownie squares.
For the frosting
In a bowl mix together powered sugar and cocoa.
Add in butter, milk and vanilla and beat until frosting is fluffy.
Notes
If you don't want to make homemade frosting - that's fine! Eat the brownies as is, or cover in store bought chocolate frosting.
Brooklyn Farm Girl http://brooklynfarmgirl.com/