Chewy Frosted Cucumber Cookies are classic tasting cookies made with 1 cup grated cucumber to add some healthy nutrients! It's the perfect easy cookie recipe to make with kids to show them vegetables can be yummy! The cute cookies are soft and you will fall in love with the sugar frosting on top! Who knew baking with cucumbers could be so delicious!
Cucumbers aren't just for making pickles with (although they are sure are yummy). You can also bake with cucumber, similar to how you'd use zucchini or pumpkin. All you have to do is remove the seeds and grate the cucumber to get a similar texture. I've been using cucumber in multiple baking recipes this Summer, like this Sugar Glazed Cucumber Bread, and we've been loving it!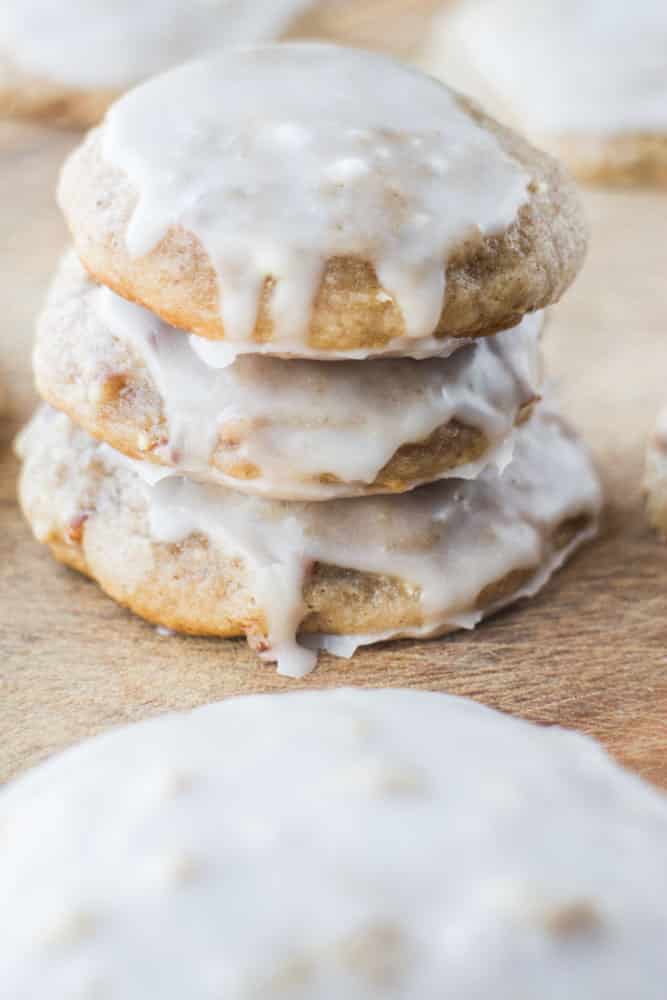 For this recipe I was inspired by Oatmeal Sugar Cookies that I used to love as a kid. This recipe uses no oatmeal, but it has the same chewy consistency, along with the sugar frosting. The cucumber is hardly tasted in this recipe, but slightly visible with beautiful green specks decorating the cookie here or there. After family and friends tell you they love the cookies then you can tell them they are made with cucumbers. They will be shocked, trust me, I do it all the time!
Enjoy these Frosted Cucumber Cookies!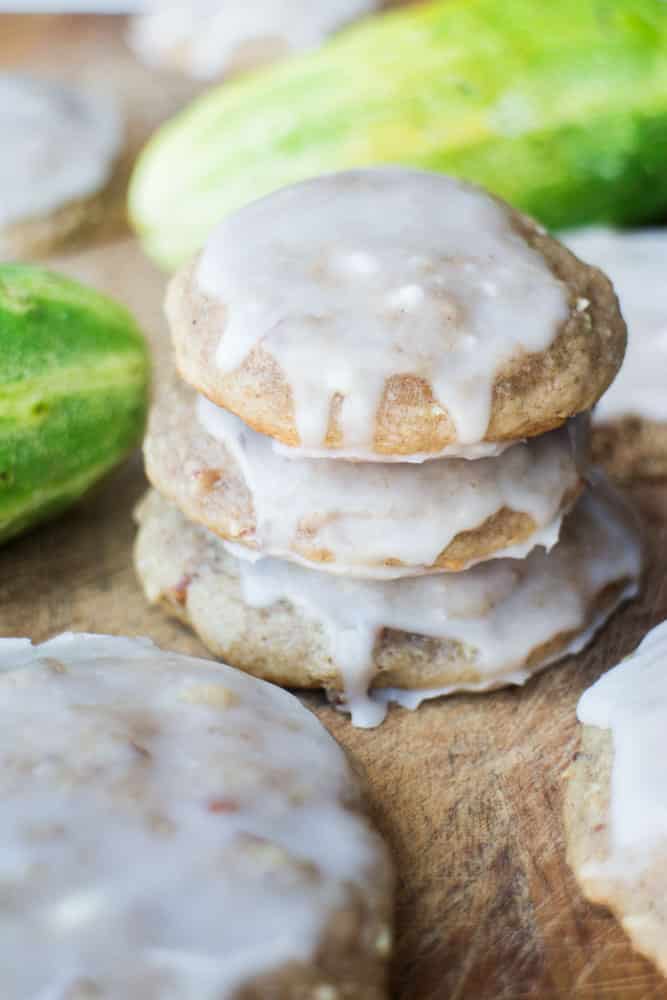 Cucumber Frosted Cookies
2016-08-26 16:56:57
For Cookies
1/2 cup butter - softened
1 cup sugar
1 egg
1 cup grated cucumber (peeled, seeds removed, drained) - see notes
2 cups flour
1 teaspoon baking soda
1/2 teaspoon salt
1 teaspoon ground cinnamon
1/2 teaspoon ground cloves
1/4 teaspoon nutmeg
1/2 cup chopped pecans
For Glaze
1 cup powdered sugar
2 tablespoons milk
Instructions
In a large bowl mix butter and sugar together with hand mixer. Beat in egg.
Add in grated cucumber and stir with a spoon.
Add flour, baking soda, salt, cinnamon, cloves and nutmeg and continue mixing.
Add chopped pecans into the bowl. Mix so equally distributed.
Cover with plastic wrap and chill in the fridge overnight.
Preheat oven to 375 degrees. Grease 2 cookie sheets.
Roll dough into tablespoon sized balls and place on cookie sheets.
Bake 12-13 minutes. Allow to cool.
For Glaze
Mix powdered sugar and milk together in bowl with a spoon.
Once cookies are cool, dip each one into the glaze.
Enjoy!
Notes
To get 1 cup grated cucumbers: peel your cucumbers, remove the seeds and grate with cheese grater. After cucumbers are grated, drain them for 30 minutes to remove excess water.
Brooklyn Farm Girl http://brooklynfarmgirl.com/