HEALTHY Creamy Bok Choy Spaghetti made with Parmesan Cheese! This is a great way to sneak in vegetables for a meal your family will love! This easy recipe only uses 1/2 cup Parmesan Cheese and takes under 15 minutes to make! Sometimes I like adding chicken to it for more protein!
The garden is filled with bok choy right now. Every week when we come home from the garden I'm carrying a few pounds of it, thinking of new recipe ideas. The words "creamy" and "bok choy" dont usually go together but this recipe was such a hit it's become a staple in our kitchen during bok choy season.
You'll need 12 oz of bok choy for this recipe, either from your garden or a grocery store. We grow baby bok choy (we use these seeds) in the garden and it's a wonderful fast growing plant. Because we pick it when it's baby sized, you just yank out the entire plant. I love baby bok choy so we have planted over 90 plants – crazy, I know! If you end up with lots of bok choy plants at once, don't worry, it freezes really well!
A bonus of this recipe is that even though it's "creamy" it's a pretty healthy dish. I only had to add 1/2 cup of Parmesan cheese to create a nice creamy consistency. That's the only cheese you need which is pretty good considering lots of other "creamy" dishes are using cups of cheese. Also I recommend a skinny noodle, like simple spaghetti, instead of a hollow noodle (example is rigatoni) as it won't absorb the creaminess as good.

Now let's get cooking.
Wash your bok choy extra good when you bring it home. I use my salad spinner which is a life saver when it's garden season.

While your spaghetti is cooking, start cutting up your bok choy. I cut the bok choy in half first, and then into skinny strips. The bok choy is going to wilt when cooking so don't worry cutting the pieces up too small.

Your cream sauce consists of butter, garlic, flour, vegetable broth, milk, salt + pepper and Parmesan cheese. It's a really simple sauce to make. And it smells so good!

Once it's done, pour over your spaghetti noodles and mix it good so all your noodles are covered with it.

And in under 15 minutes you have a delicious, fresh meal for your family to enjoy.

I hope you enjoy this recipe and you'll keep it in your recipe box!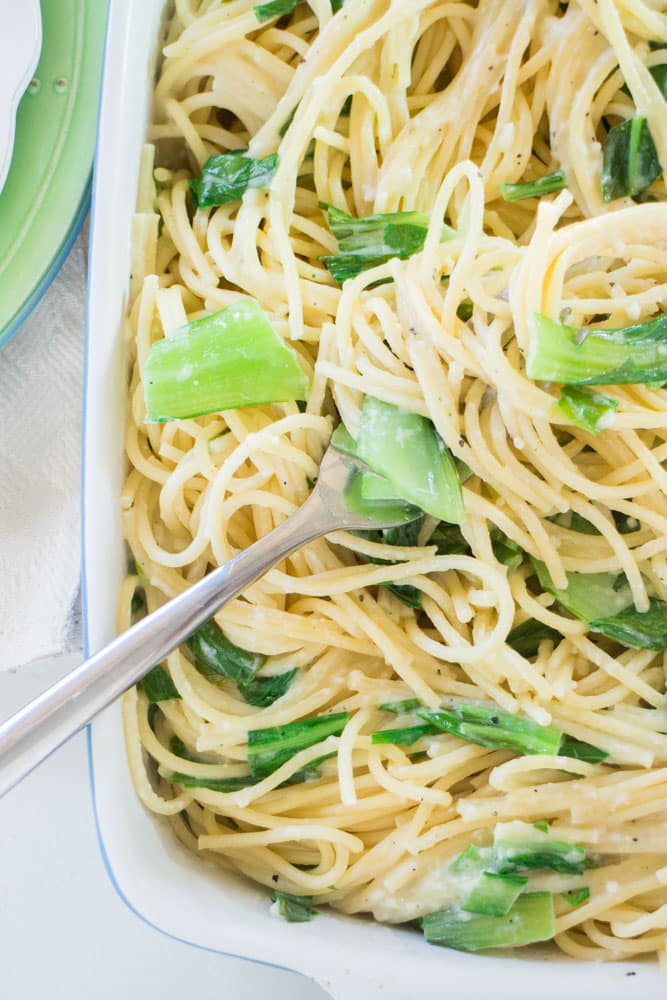 Have a great weekend everyone!
Creamy Bok Choy Spaghetti
2016-06-09 19:50:43
Ingredients
16 oz spaghetti
12 oz bok choy
2 tablespoons butter
2 cloves minced garlic
2 tablespoons flour
1/2 cup vegetable broth
3/4 cup milk
1/2 cup grated Parmesan cheese
salt + pepper to taste
Instructions
Cook pasta as instructed on box. Drain, put back in pot and set aside.
Cut up bok choy into bite size pieces.
Melt butter and garlic in a large saucepan over medium high heat. Add flour and cook for 1 more minute, stirring.
Add bok choy, vegetable broth and milk, continuing to stir until sauce thickens, about 5-7 minutes.
Add Parmesan cheese and salt + pepper. Keep stirring until cheese melts.
Pour cream sauce over spaghetti.
Stir so everything is mixed. Serve hot.
Enjoy!
Brooklyn Farm Girl http://brooklynfarmgirl.com/