CHEWY Coconut Raisin Chocolate Chip Cookies with AMAZING sugar glaze on top! This easy, healthy recipe is going to become your new favorite cookie! The cookies are loaded with raisins and pecans so they make the perfect breakfast or dessert – my entire family loves them!
I made these cookies this past weekend knowing that I would need something sweet but filing to keep me energized this upcoming week. I loaded these cookies with raisins and pecans so just one cookie would give me that morning or afternoon jump that I need. Instead of milk or water I used Coconut Protein shake in the recipe because coconut + raisin is a awesome combo. If you don't have a Coconut shake, that's ok, you can use Coconut Almond Milk instead! To top it off I made my favorite sugar glaze that I quickly dip each cookie into, which quickly hardens so you don't have to worry about messy frosting cookies (especially useful on the go!).
Raisins + Pecans + Chocolate Chips + Coconut Protein Shake are the cast of characters here.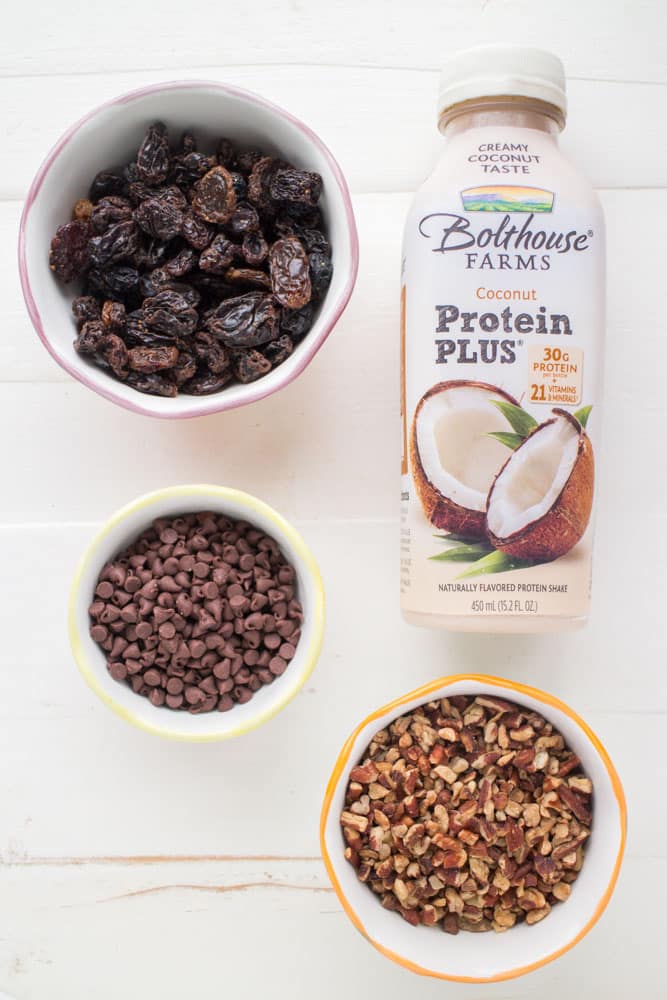 The cookies are easy to prepare and only take about 12-14 minutes to bake. The dough is pretty delicious too (part of the cookie dough lovers club).

And out comes these gorgeous things! Look at those raisins! Beautiful!

Now let those cookies cool down. During this time make the sugar glaze. The glaze by the way is totally optional, but I say go for it! The glaze hardens up pretty quickly so you don't have to worry about messy cookie frosting getting all over your hands. Since I love taking these cookies on road trips that's important!

Now dip each one (gently) into the glaze. You could also drizzle them on top of each cookie.

Oh la, la…. yum, yum.

Look at how deliciously pretty they are inside too!

Recipe makes about 32 cookies. You can easily half the recipe if you'd like.

Eat your cookie loving heart out!
Coconut Raisin Chocolate Chip Cookies
2016-06-05 21:21:43
Ingredients
1/2 cup butter
1 1/4 cup brown sugar
1 egg
2 cups all-purpose flour
1/2 teaspoon baking soda
1/2 teaspoon baking powder
1 teaspoon ground cinnamon
1/2 teaspoon ground cloves
1/2 teaspoon ground nutmeg
1/4 cup Coconut Protein Shake or Coconut Almond Milk
1 cup raisins
1 cup finely chopped pecans
1/2 cup chocolate chips
Glaze
1 cup powdered sugar
2 tablespoons Coconut Protein Shake or Coconut Almond Milk
Instructions
Preheat oven to 375.
Mix butter and brown sugar with hand mixer. Add egg, keep mixing.
Add flour, baking soda, baking powder, cinnamon, cloves and nutmeg. Continue mixing.
Stir in coconut shake, raisins, pecans and chocolate chips. Use spoon to mix, evenly distributing new ingredients.
Shape into tablespoon sized balls onto nonstick baking sheet.
Bake for 12-14 minutes.
Let cool for 30 minutes.
Dip each cookie into glaze, let it set for 10 minutes.
Eat!
Glaze
Mix powdered sugar and coconut shake together in bowl with hand mixer for a few seconds.
Notes
Makes approximately 32 cookies.
Store in airtight container.
Brooklyn Farm Girl http://brooklynfarmgirl.com/