Spooky Halloween Frosted Pancakes with Count Chocula, Boo Berry and Franken Berry Cereal on top. They're perfect for a fun holiday breakfast!
This recipe brings together 2 of my favorite things: Halloween and pancakes!
Pancakes are one of my favorite breakfast meals on the weekend. On the week I usually grab a protein bar and I'm out of the house but on the weekend it's time for a slower pace. This is one of my favorite pancake recipes because they come out extra fluffy and moist. The mix is easy to make and you'll have it on your pan ready to make pancakes in just a few minutes!

But we aren't just making any pancakes, we're making them specifically for Halloween, so let's cause a fright! First up, grab your black (or orange) icing. Put a few drops on the pancake and spread around.

Now grab your spooky cereal. If you've never experienced Count Chocula, Boo Berry or Franken Berry please rush to the store immediately. The cereal pieces are ghosts you guys! Ghosts!

Now grab some cereal pieces (and marshmallows) and make your pancakes festive. This would be a fun treat for kids as they can decorate however they want.

Isn't this such a fun breakfast idea for Halloween? It does fall on a Saturday this year so it's the perfect time to make some pancakes!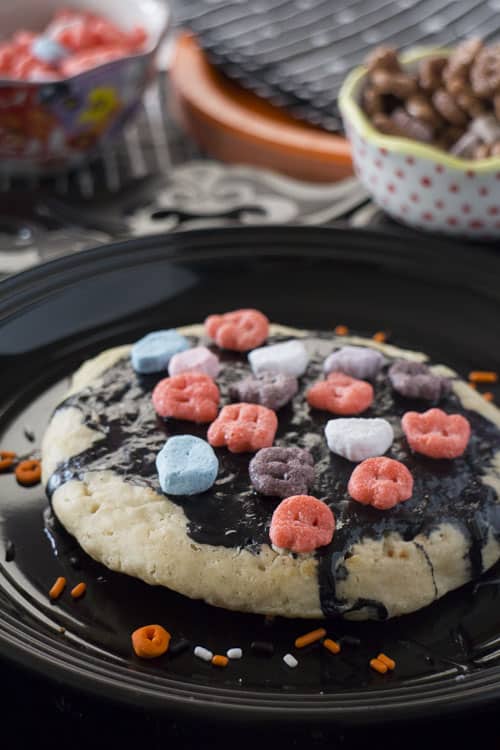 Hope you enjoyed my Spooky Halloween Frosted Pancakes. Happy Halloween!

Spooky Halloween Frosted Pancakes
2015-10-13 22:33:45
Ingredients
3 1/2 cups all-purpose flour
3 tablespoons baking powder
1/2 teaspoon salt
2 tablespoons white sugar
3 cups milk
1 tablespoon vanilla
2 eggs
1 stick of butter melted
Black or Orange Icing
Count Chocula, Boo Berry and Franken Berry Cereals
Instructions
In a large bowl mix flour, baking powder, salt and sugar.
Add milk, vanilla, eggs and butter and continue to stir.
Heat a nonstick sprayed frying pan over medium high heat. Once heated scoop 1/4 cup batter for each pancake onto the center of your pan. Brown on both sides.
Let pancakes cool for 1 minute and then ice the top of the pancake with your Halloween colored icing and cereal pieces.
Enjoy!
Notes
Servings: 4-6
Brooklyn Farm Girl http://brooklynfarmgirl.com/