This is a sponsored post written by me on behalf of Newman's Own for IZEA. All opinions are 100% mine.
When it's hot out all I crave is fresh vegetables. That's why this Family Recipe Italian Pasta Salad is one of my favorite dinner meals of the moment.
The last few days have been hot. It's that humid dry heat that melts you when walking to work to the point of where you have to dry yourself off before stepping into the studio. There you work in the AC until it's time to go home. Now it's time to sweat again. Once home, I don't want to even think about turning our oven on. I also don't want to even think of drinking or eating anything hot, so that's why chilled pasta salad is the winner!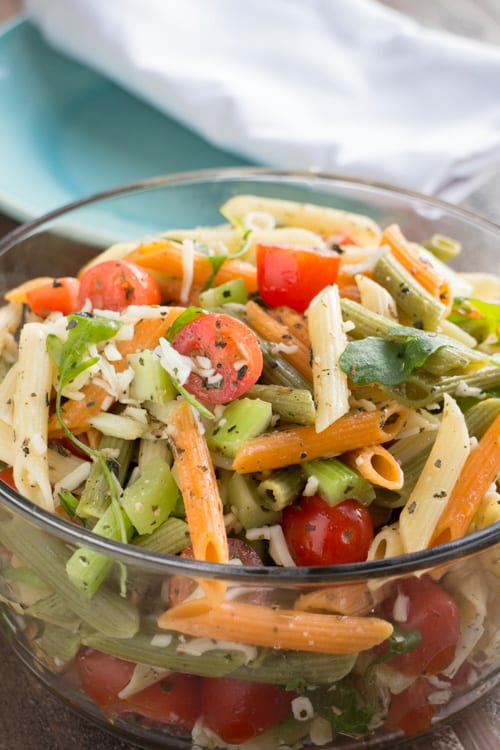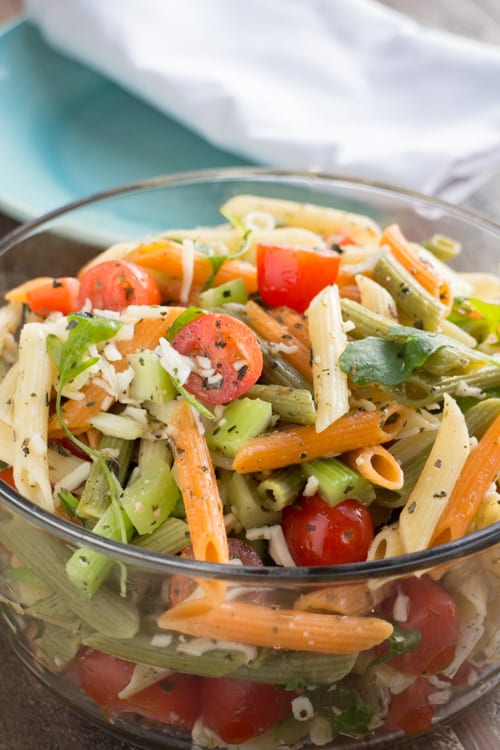 One thing that I do enjoy about the Summer is that it means fresh vegetables are being picked in the garden by the handful. Our tomatoes have taken off and are already close to outgrowing their 54 inch tomato cages.

And even better we're beginning to spot a bunch of cherry and roma tomatoes growing on them!

I can't wait for us to start filing the baskets with tomatoes, that way we can make this pasta salad all the time with our own fresh veggies.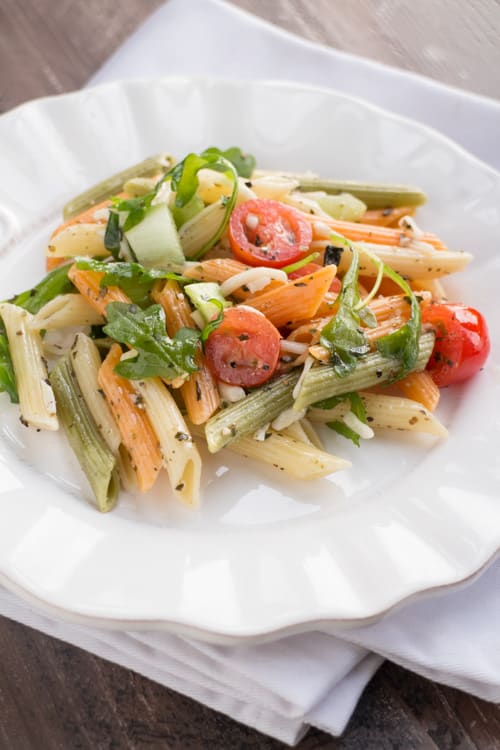 For my pasta salad I used Newman's Own Family Recipe Italian because the dressing is the most important part. The dressing needs some tang to it while being full of delicious herbs as well. It's great tasting with the finest ingredients. Newman's Own also has Balsamic, Olive Oil & Vinegar, Ranch, Creamy Caesar and more if you'd like to try something different or want to make it creamy. And because I love giving back and buying high quality foods that actually care, all profits of Newman's Own go to charity.
This pasta salad is packed full of cherry tomatoes, celery and arugula making it the perfect excuse to hit up the farmers market! I love that crunch of celery on a hot night.
Here's a how to video on how to make my favorite pasta salad, Family Recipe Italian! Hope you enjoy it!
Family Recipe Italian Pasta Salad
2015-06-15 18:02:14
Ingredients
12 oz bag of tri color penne pasta
1/2 cup Newman's Own Family Recipe Italian
4 stalks of celery (chopped up)
1 pint of cherry or grape tomatoes (halved)
1 1/2 cup arugula
1 tablespoon dried basil
1 tablespoon dried oregano
1/2 cup shredded mozzarella
Instructions
Prepare your pasta as directed. Drain.
Put your pasta in a big bowl.
Add your chopped vegetables, salad dressing and dried herbs.
Mix together so everything is coated in salad dressing.
Add in your mozzarella cheese, toss around.
Cover, put in fridge to chill for 2 hours.
Enjoy!
Notes
If your pasta salad looks a little dry when it comes out of the fridge, add a tablespoon of salad dressing and mix.
Brooklyn Farm Girl http://brooklynfarmgirl.com/
For more info on Newman's Own:
Newman's Own Facebook
Newman's Own BuzzFeed Page