Copycat KFC Southern Style Flaky Biscuits recipe. These are perfect buttery biscuits to serve with soup!
*Sniffle, Sniffle, Cough, Cough, Oh My Throat Hurts, Sniffle Sniffle*.
That's what the last few days sound like in our house. A few days before Christmas Matthew began to get sick. He said it wasn't the flu because someone "didn't have time" to get his flu shot and didn't want to admit to it. Quickly after his temperature was at 102, he was shivering, he couldn't eat, he was congested, he admitted he had the flu. So after I gave him the look of "I'm not going to say I told you so but I told you so" and tucked him into bed for a few days, he slowly started to get better. Then I slowly started to feel something coming on myself. I got the flu shot, that means I can't get sick. Ugh, wrong. I didn't have it as bad as Matthew but I had a wicked sore throat, congestion and aches (oh the aches!) for the last few days. Matthew surprised me on Christmas with 2 tickets to see Aladdin over the weekend and because the tickets were expensive and the show is sold out, we both got out of our jammies and made our way to the theater. By this time Matthew was feeling slightly better but he said I looked like a super pale sick ghost sitting there as I tried to sing along to "Friends Like Me" without falling over. Anyways, Aladdin was great, we made it home (nearly got sick – someone was eating yogurt on the train – the smell of it wanted to gag me) and then I got back in my flannel pajamas and dinner was made. What have we been eating for lunch and dinner the last night few days? Soup. Oh soup, how I love you. How are you so nice to me? How do you treat me so good? How are you always there to warm me up when I think I've had it all?
Warmth and veggies, that's all I need…

What is the best thing to serve with soup? Oh, you got it right Sista. It's biscuits. I like my biscuits flaky. I like them warm. I like a little butter on top. I love when they crumble apart. I also love to give them a little dive into the soup bowl. When I was little my mom worked at KFC (that's Kentucky Fried Chicken if you didn't know). I'm not going to lie, I love that place. Their biscuits, their mashed potatoes – hello big bucket of goodness. I'm pretty sure this is illegal to the KFC conduct codebook but my mom would sometimes sneak me a extra biscuit. That's when I knew I was a good girl that day. Off I went with a smile and my 2 warm biscuits. What I loved about theirs was how flaky yet soft their biscuits were. They didn't taste "bready" or heavy. They were light but delicious.
Whenever someone tries one of these biscuits, they're like "This tastes like…" and I'm like, *hold a hand up*, "I know, enjoy". I love making these biscuits for soup or Sunday dinner (amazing with mashed potatoes and gravy). There's never a biscuit left on the dinner table.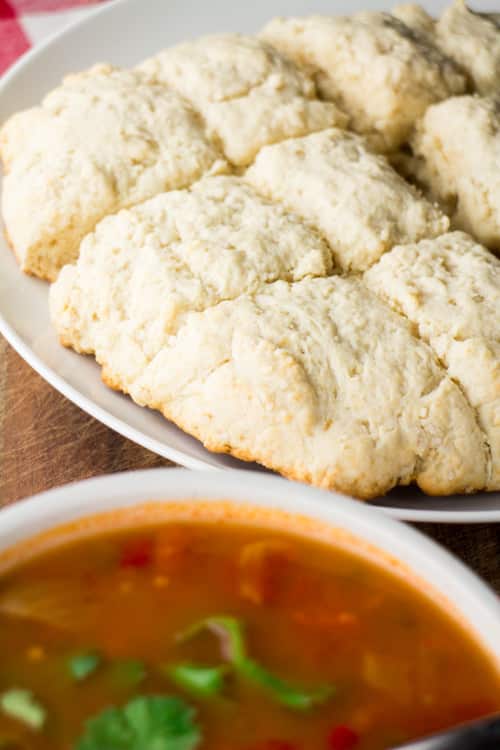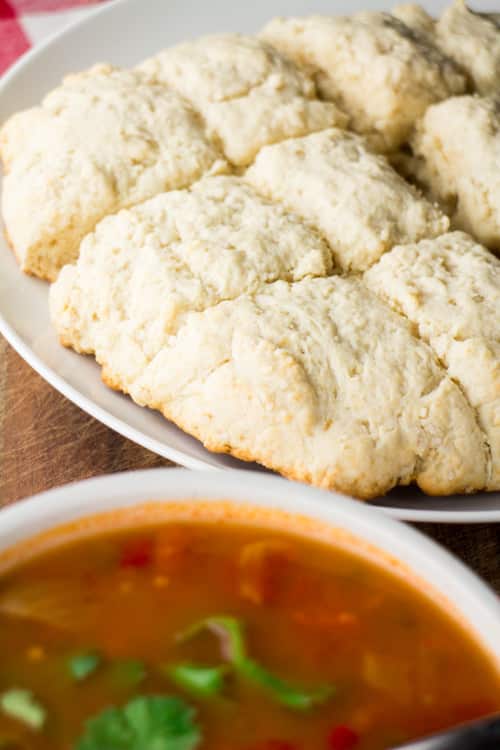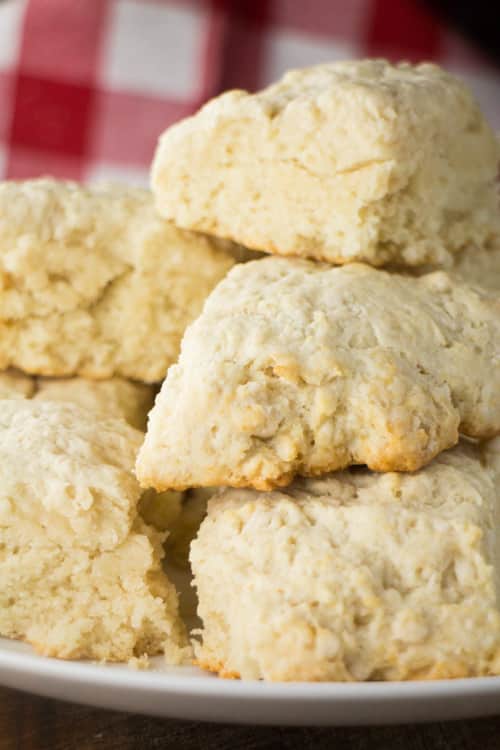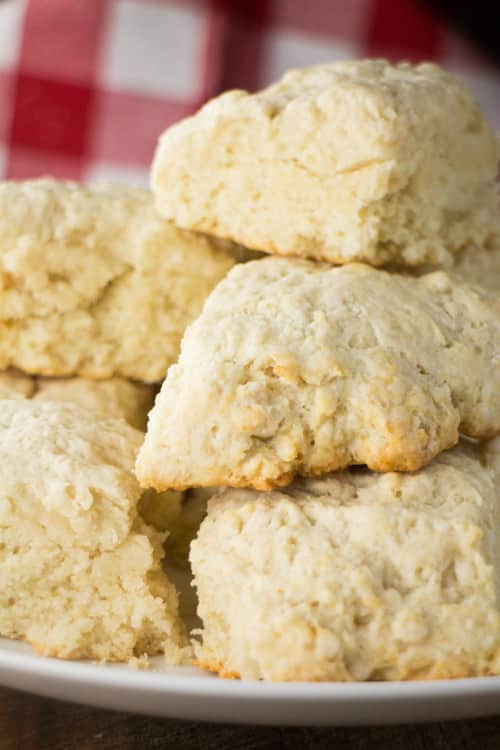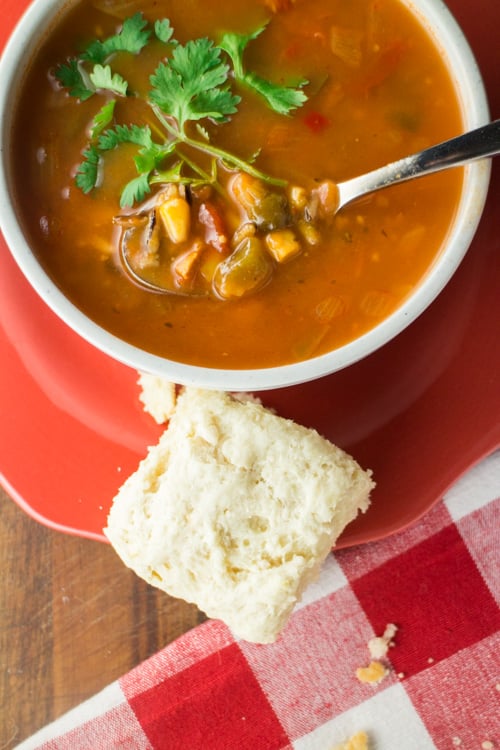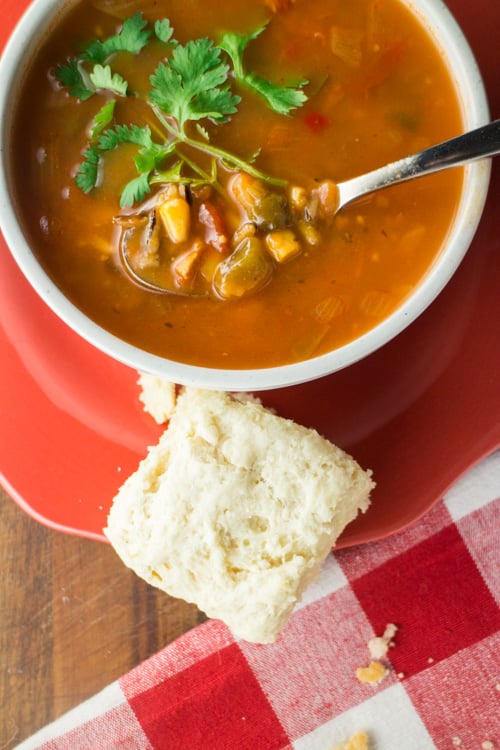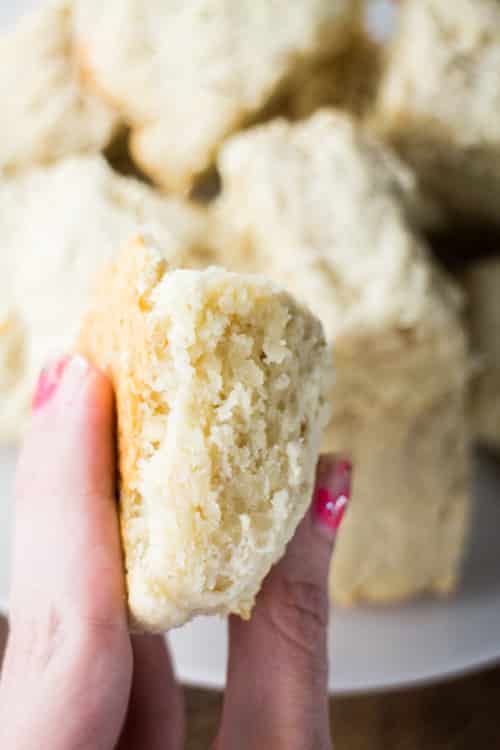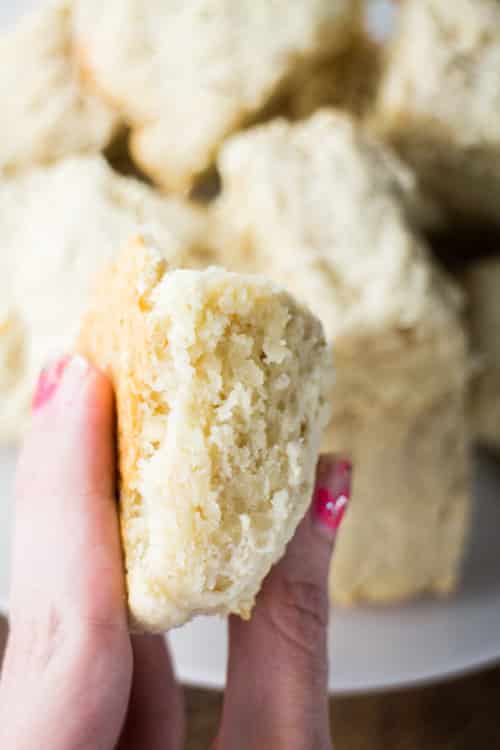 KFC Southern Style Flaky Biscuits
2014-12-28 19:12:40
Ingredients
2 cups flour
2 1/2 teaspoon baking powder
1/2 teaspoon baking soda
1/2 teaspoon salt
1 tablespoon sugar
1/2 cup butter (cold)
3/4 cup buttermilk
Instructions
*It's very important that you use chilled butter for this, that will make sure the biscuits are flaky. You can refrigerate or freeze the butter, don't use room temperature or melted butter.*
Preheat oven to 400 degrees.
In a bowl mix flour, baking powder, baking soda, salt and sugar.
Slowly start to cut butter in the flour mixture. You can either grate the butter or I use a knife to cut into small pieces. Keep cutting butter in until it's all gone. You want the mixture to look like crumbs.
Mix in buttermilk.
Knead dough in bowl for 30 seconds.
Transfer to a greased baking sheet and roll out with your hands into a 7x7 piece. With a knife, cut 12 sections but don't don't cut all the way or separate them. This will make them easy to rip apart when done.
Bake 15 minutes.
When out of the oven, cut into sections and serve hot.
Notes
Makes 12 biscuits.
Brooklyn Farm Girl http://brooklynfarmgirl.com/
Enjoy your soup and hope you're staying healthy and warm!