What do you think of when I say the words comfort food? For me, I think 2 things. Macaroni and Cheese. And Mashed Potatoes. Thankfully this post is about one of these foods. The holy grail of love and comfort… mashed potatoes!
Thanksgiving is just a few days away and then we have the big month of December which is full of festive dinners and parties ahead of us. One side dish that is always a staple is mashed potatoes. This weekend we had our annual Friends Thanksgiving dinner and it was fun and delicious. And of course, there were potatoes there! Is Thanksgiving even possible without mashed potatoes?

I wish I had photos of my dining table as a kid on Thanksgiving day to see that every single year there was a big pot of mashed potatoes there. I remember that my dad would peel them. He would sit at the table, with a trash can in front of him and peel every single potato that my mom would throw at him. Things have slightly changed with age. Matthew and I compost the potato skins, and I throw potatoes at Matthew (all the time) but one thing remains the same, the love of mashed potatoes is strong!
Mashed potatoes is like a warm blanket to me. They just comfort and hold me. When I'm feeling like I'm coming down with a cold, I love to eat a little bowl of mashed potatoes. It was something my mom would always serve me as a kid, so I continue. I don't think there's any scientific evidence that mashed potatoes helps a cold, but they sure warm your heart up.
These mashed potatoes are super creamy. This is my go to staple mashed potatoes recipe. You know once you found that one that works, you always stick with it? That's how I feel about these potatoes.
The special part of these potatoes is they are made with I Can't Believe It's Not Butter!®, which is made from real, simple ingredients (think the good fats found in avocados, walnuts and almonds)– 100% taste, 0% artificial preservatives. They are made from a delicious blend of plant-based oils, purified water and a pinch of salt. Just one bite and you'll Believe! (get it? haha). Even better? It has 40% fewer calories and 70% less saturated fat than butter. It comes in Original, Light and Olive Oil varieties, for these mashed potatoes I like to stick with the Original. The new I Can't Believe It's Not Butter!® is available in grocery stores nationwide beginning October 2014 for a suggested retail price of $3.09 (you can also leave reviews!). You can also use this for basically any recipe – from spreading on toast in the morning, to baking a pound cake, to putting on corn on the cob or sauteing vegetables. Oh and I love that it's soft right out of the fridge, don't you hate when you have to wait for butter to soften?
Keep these potatoes in mind for holiday cooking. They make the perfect friend for chicken and turkey! Enjoy!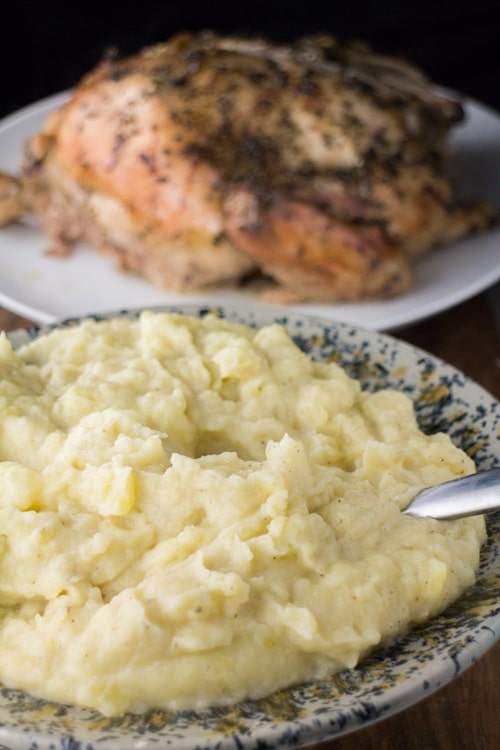 I Can't Believe It's Not Butter! Creamy Mashed Potatoes
2014-11-21 01:15:03
Ingredients
2.5 pounds Yukon Gold Potatoes - peeled and cut into quarters
3 tablespoons I Can't Believe It's Not Butter!
1 cup milk
salt + pepper to taste
Instructions
Bring a pot of salted water to a boil. Add potatoes and cook for 15 minutes. Drain. Add back in pot.
Heat milk and butter together in microwave safe bowl for 45 seconds.
Add heated milk and butter to pot of potatoes and begin mixing them with hand mixer until creamy.
Season with salt and pepper.
Brooklyn Farm Girl http://brooklynfarmgirl.com/
I was selected for this opportunity as a member of Clever Girls and the content and opinions expressed here are all my own.