20 Minute Pumpkin Butter recipe made with healthy ingredients: pumpkin puree, apple cider, maple syrup, cinnamon, nutmeg and cinnamon. Pumpkin Butter is delicious on waffles, pancakes, toast, as a fruit/veggie dip and more!
Waffles have been a go to breakfast for us lately, because they are both delicious and quick. With frozen waffles, you throw them in the toaster oven for 6 minutes and they're done. Then it's up to you how you want to eat them – do you use syrup? How about jelly? How about butter? How about.. pumpkin butter?
If you want to make your own fresh pumpkin puree for this recipe you totally can. Here's my tutorial I made for it last year. To me, nothing tastes better than homemade pumpkin puree. If you are going to make your own, use a sugar pumpkin. They give you the most taste. Plus, they are real beauties.

What else is a beauty? My Bofinkles is. Sorry, I'm easily distracted by cats. They put a spell on me.

To make the pumpkin butter you'll only need a few ingredients.

With pumpkin puree, apple cider, maple syrup, cinnamon, nutmeg and cinnamon your pumpkin butter is made!

And then it's time to get down to business with spooning it on.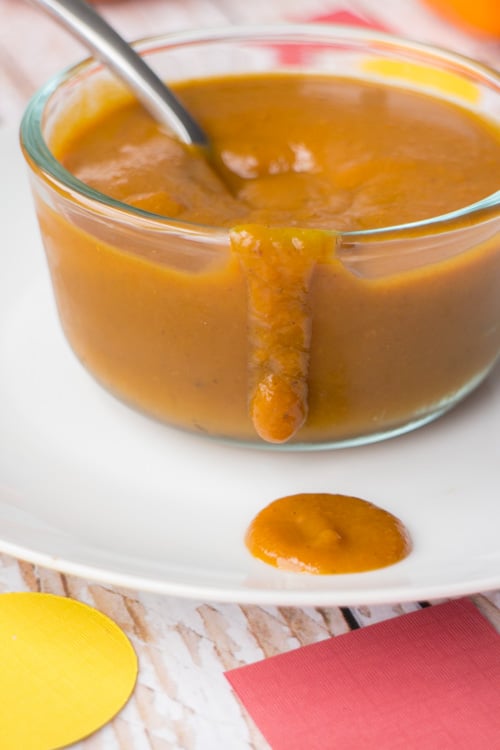 Take a generous spoonful of pumpkin butter and put it on top of your waffles. Then spread it around with a butter knife.

Hope you enjoy this pumpkin butter on top of waffles very soon for breakfast!
It's also delicious on pancakes, toast or used as a dip for apples!

20 Minute Pumpkin Butter
2014-10-19 20:36:05
Ingredients
1 cup pumpkin puree
3 tablespoons apple cider
3 tablespoons maple syrup
1/2 teaspoon cinnamon
1/4 teaspoon nutmeg
1/4 teaspoon ground cinnamon
Instructions
Mix all ingredients in a saucepan over medium high heat.
Bring to a boil and then simmer for 20 minutes, stirring often.
Enjoy right after on waffles, or put in mason jar in the refrigerator.
Notes
Perfect for waffles, pancakes, toast or as a dip.
Brooklyn Farm Girl http://brooklynfarmgirl.com/