HEALTHY Tomato Tea recipe that is made with 2 ingredients! This easy homemade tomato tea can be served hot or cold and is filled with many health benefits! Whenever my skin is acting up, I drink a cup of this in the afternoon!
Tomato that.
Tomato everything.
Tomato tea.
This tomato tea is super easy to make and only has 2 ingredients (tomato and celery salt). You can serve it warm in the Fall or cold in the Summer. This tomato tea is fresh and isn't loaded with processed ingredients like so many tomato juices are. This is one of my go to recipes in the Summer when we're up to our ears in tomatoes from the garden. It makes the perfect afternoon tea if you're seeking something different.
Hope you give it a shot – enjoy!

So how do you make it? Easy.
First, grab a big juicy tomato. Then throw it in a food chopper (I like using my small one is a perfect size for this recipe).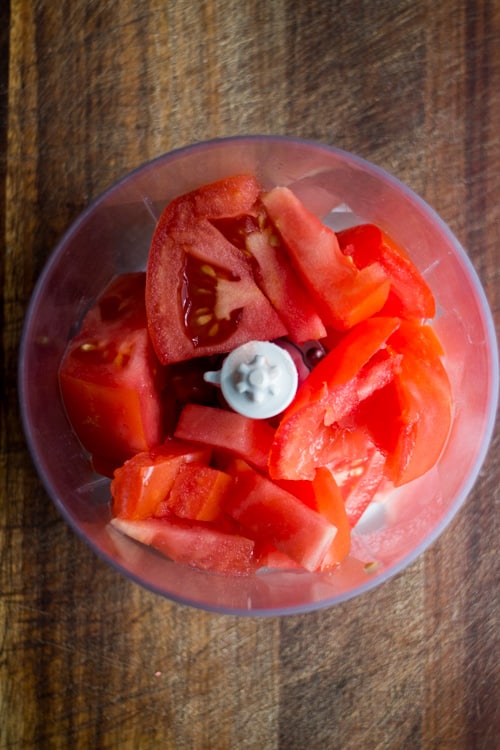 Pulse until it's watery.

Then attach a piece of cheesecloth over a cup. Pour tomato liquid on top and let it drop down into the cup.

It will take a few minutes, but you can speed it up by carefully pressing it down with a spoon too.

If you want this tomato tea warm you're going to throw it in a sauce pan (with some celery salt) over low heat and warm it up. If you want it chilled, add a couple ice cubes. The result? An amazing cup of tomato tea!

Curling up with a cup of tea is something I look forward to each morning and evening so if you're like me, give this tomato tea a shot. I think you'll be pleasantly surprised by how relaxing and delicious it is! Hope you enjoy!

Tomato Tea Recipe
2014-09-09 19:21:45
Ingredients
1 large tomato - chopped
1/4 teaspoon celery salt
Instructions
Put chopped tomato in food processor and pulse until watery.
Put cheesecloth over cup and pour tomato mixture over cheesecloth, collecting the liquids in the cup. To speed up the process press tomato with spoon. Remove cheesecloth, discard tomato pieces on top (compost!). Add celery salt into cup and stir. If serving chilled, add a couple of ice cubes to cup.
If you want the tea warm, pour tomato tea into a small saucepan over low-medium heat. Heat until warm, about 3-4 minutes. Pour back into cup.
Notes
To easily secure the cheesecloth to the cup use a rubber band. You could also use a find mesh sieve instead of cheesecloth.
Brooklyn Farm Girl http://brooklynfarmgirl.com/