This post brought to you by ALO Drink. All opinions are 100% mine.
When you think Aloe Vera what do you think of? Probably sunburn. As a kid my parents would slather Aloe Vera on me after every day at the beach on family vacation. As a adult Matthew slathers Aloe Vera on me after every long garden day. What can I say? I'm pale and burn.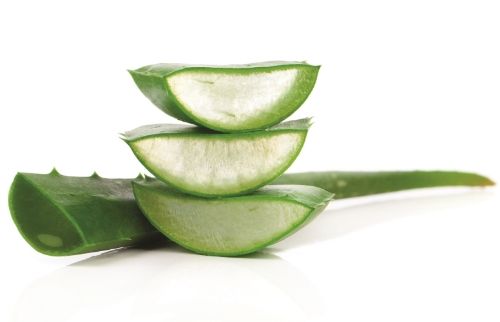 (This is aloe vera!)
I'm here to change your ideas of Aloe Vera though (but I'm not here to change your ideas of always covering up in the Sun!). Do you know you can drink Aloe Vera? Oh you bet you can and it's totally delicious. I've recently come to love ALO drink juice that has the natural benefits of real aloe vera and is handpicked from their organic aloe vera farm. All of this goodness comes straight from the leaf leaving it very natural. Aloe Vera is crisp and refreshing in flavor, perfect for a Summer afternoon. Using the ALO Comfort variety which combines Aloe Vera with Watermelon and Peaches, I wanted to keep it simple by making it my own. I love the taste of lime and mint is a crazy producing plant right now so I knew they'd be be the perfect addition in the blender. With a handful of ice I had a cold and healthy drink to enjoy!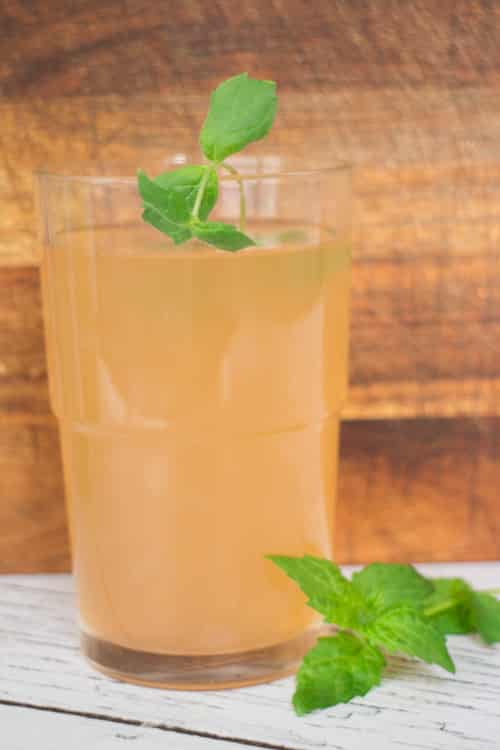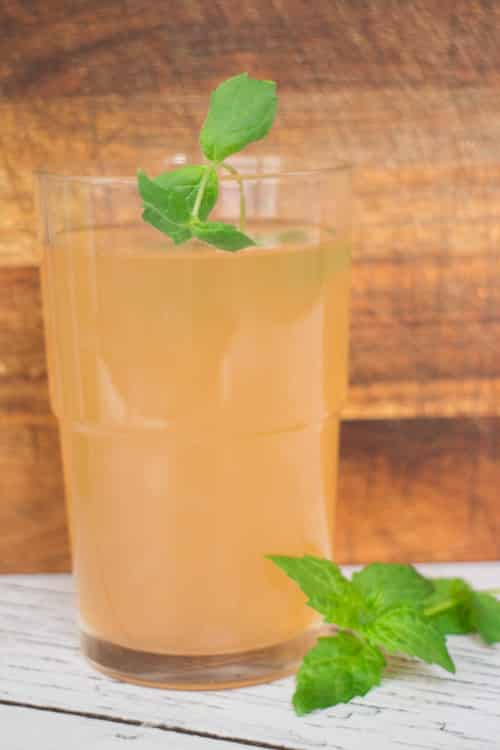 ALO comes in 9 flavors for ALO original, 3 flavors for ALO light and 2 flavors for Coco Exposed (an aloe vera and coconut water beverage). What's my favorite? I am loving the Comfort variety which is fruity and a perfect base for putting your own twist on! It's mixed with Watermelon which is high in vitamin A & C, beta carotene, vitamin B1 (thiamine) and B6 (pyridoxine), potassium and magnesium and Peaches which is high in fiber, fat free and contains essential vitamins like A, C and E. ALO Drink comes from an organic aloe vera farm and is made with real aloe vera pulp, straight from the leaf, never from powder. Additionally, ALO is low in calories, gluten-free and fat free! ALO was the first Aloe Vera beverage to receive the Non-GMO project verification too!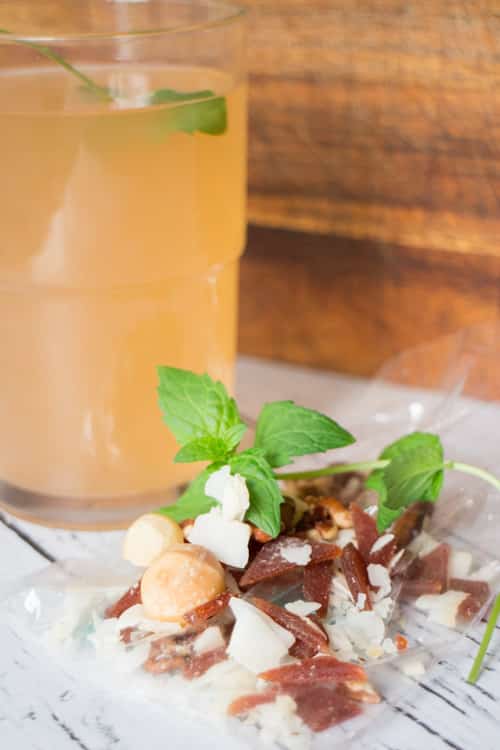 It's the perfect treat for a afternoon pick me up to have alongside some Hawaiian trail mix. We're all about fruits and tropical taste here!
Aloe Vera Mint and Lime Juice
2014-08-19 20:42:26
Ingredients
8 ounces Alo Comfort Juice
1 tablespoon lime juice
1 tablespoon mint leaves + more for garnish
1 cup ice
Instructions
Put all in blender and mix.
Enjoy!
Brooklyn Farm Girl http://brooklynfarmgirl.com/
Because I want to share the yumminess of ALO as the Summer winds down, I'm giving away a ALO prize pack! There's multiple ways to enter below. Be sure to tell me in the comments how you'd like to enjoy ALO during your day! Is it a fit in your morning, afternoon or evening routine? Contest ends September 1st, 2014.
To learn more about ALO visit them on their ALO Facebook, Twitter, Instagram, Youtube and ALO Website pages.
Check out ALO Drink's SoundCloud page where you can check out a song that was made specifically for each drink!