Bok choy was another one of those plants that we really discovered this Spring on a new plant getting to know you level. Over the past few Winters we experimented with a few bok choy plants under a greenhouse and it worked pretty good, so we thought to start making it a permanent garden fixture.
This Spring we planted a few more bok choy plants and they grew massive. Want some size comparison?

So after we had such great luck with that we wanted to try to see if it would grow in the heat in the Summer too. So now there are about 10 bok choy plants growing happily alongside the kale. Right now they're about 8 inches in diameter so hopefully in about a month we'll see some more bok choy ready to harvest! Bok choy freezes great so it's nice to be able to put some aside to enjoy on Snowy January days too!
With a whole lot of bok choy picked I needed to come up with some good dinner recipes with it. I think bok choy is delicious with noodles and rice but I wanted to give it a garlic kick. Garlic was the perfect partner to go along with this bok choy. It makes a fulling healthy dinner that is bursting with flavor.
Hope you enjoy this Bok Choy and Garlic Over Pasta recipe!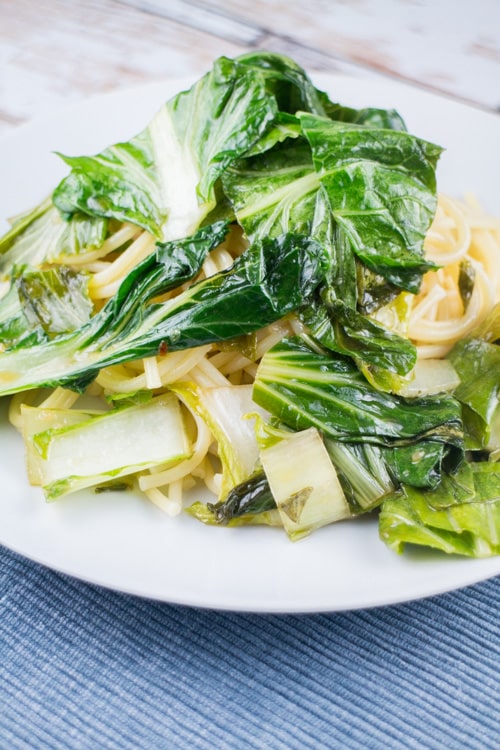 Bok Choy and Garlic Over Pasta
2014-07-23 00:58:46
Ingredients
1 pound bok choy - chopped
1 tablespoon olive oil
1 tablespoon sesame oil
1/4 cup chicken broth
1 teaspoon ginger
2 cloves garlic - minced
2 tablespoons soy sauce
1 tablespoon oyster sauce
1 tablespoon brown sugar
1/8 teaspoon red pepper flakes
Pasta of your choice cooked to box directions.
Instructions
Wash and chop boy choy into 1 inch pieces.
In a bowl combine chicken broth, ginger, garlic, soy sauce, oyster sauce, brown sugar and red pepper flakes.
In a large skillet heat olive oil and sesame oil over medium high heat. Add bok choy and fry for about 5-7 minutes until it wilts.
Turn heat to low and add sauce you made in bowl to the bok choy in the skillet. Toss bok choy lightly to cover in sauce.
Pour bok choy mixture over pasta.
Enjoy!
Brooklyn Farm Girl http://brooklynfarmgirl.com/