3 INGREDIENT Candied Jalapenos recipe! You only need jalapenos, sugar and water to make this delicious SWEET and SPICY recipe! Everyone goes CRAZY when I make these with our garden peppers! Use this as a appetizer dip, on top of crackers or in dinner dishes! Store in refrigerator or use for canning!
These 3 Ingredient candied jalapenos. Oh goodness gracious. Don't ask me how many I ate over the past few days. Ok, don't ask me. Seriously don't. Ok I might have eaten a entire jar already and made another today. I said don't ask me!
Honestly, I have no self control with these.
They're sweet. They're spicy. They're just right. They are the perfect combo of sweetness with a kick. They are amazing on crackers with a little piece of cheddar cheese. The cheese balances out the heat with a little coolness. They're also perfect chopped up and thrown in hamburger meat for the perfect homemade hamburger. Try them on top of tacos or nachos too! Oh and they are just the most delicious on top of some pulled pork. You can even eat them right out of the jar with a spoon. I won't judge you because I went back to that jar with spoon in hand multiple times. I like to keep these simmering for almost 30 minutes to really get that syrup greatness going with them. The way the sugar and the jalapenos blend together is a thing of beauty.
Our jalapeno plants are crazy! I feel like we're picking pounds and then a few days later it's a few more pounds. Our green bell peppers are always warriors and grow great but who knew their cousin Mr. Jalapeno was such a warrior too? These are definitely a keeper in the garden for decades to come!
And look at the size of them too!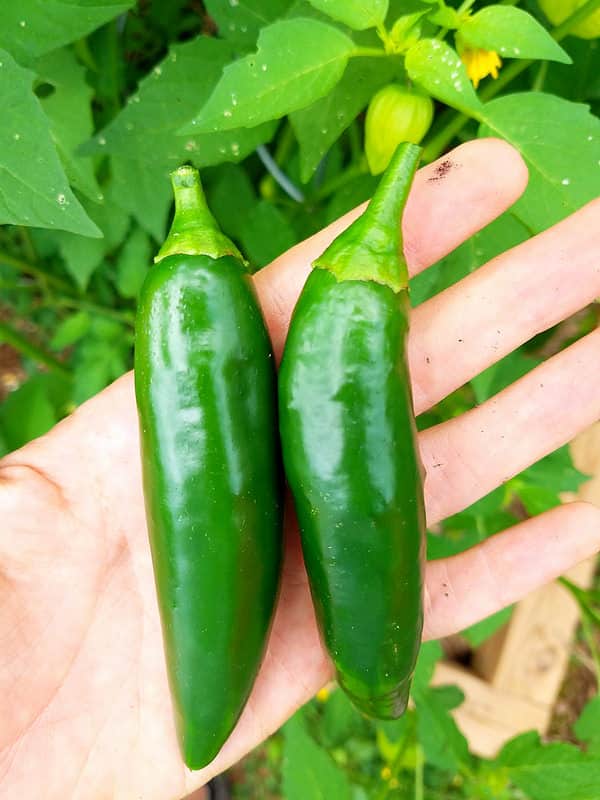 I'm totally ok with these plants yielding so many peppers because I'm absolutely jalapeno crazy! I am going to make a few jars of these candied jalapenos to last me a few months but I doubt they are going to last that long!
If you have a bunch of jalapenos in the garden and don't know what to do with them – make these! If you bought a bunch of jalapenos from the market and don't know what to do – make these!
Enjoy!
Need more Jalapeno recipes? Click here!
3 Ingredient Candied Jalapenos
2014-07-21 23:14:16
Ingredients
2 1/2 cups sliced fresh jalapenos
1 cup sugar
1/2 cup water
Instructions
Slice jalapenos into rounds. Remove the seeds if you don't want them extra spicy. If you want them extra spicy leave the seeds. I would suggest wearing gloves during this part.
Place jalapenos in a small sauce pan.
Add water and sugar.
Cook over medium/high heat until boiling.
Reduce temperature and simmer until the liquid has reduced and looks like syrup, stirring occasionally. This takes approximately 30 minutes to 1 hour.
Let cool and place in jar.
Store in refrigerator.
Ideas
Eat these with chips or cheese and crackers.
Put these in hamburger meat when making hamburgers.
Put on top of nachos or tacos. Also makes a great topper for pulled pork!
Brooklyn Farm Girl http://brooklynfarmgirl.com/