Easy Fresh Apple Juice recipe! Follow these simple instructions on how to make fresh apple juice with a juicer!
I thought about doing this post and thought it might be too simple, but simple recipes are always the best right? So I decided to do it, so here I am. Hello.
I love apple juice, fresh apple juice, super fresh apple juice bought from the farmers market stands. Last year I got my hands on a juicer (thanks Dad!) and ever since then I've been livin la vida juicing! When we went apple picking last year I spent hours making cider over the stove, simmering it and adding spices, and yes it was delicious – but it was a long process. With my juicer I have fresh apple juice within minutes. Juicing, it's changed my life. Also I'd like to mention that when I made apple cider last year Matthew was very so so on it, but this year when I'm making it au naturel he can't get enough. He's buying me apples left and right, throwing them at me, leaving them under my pillow. I get the hint! Apple Juice is great!
So the ingredients in this recipe is: Apples. That's it. No sugars. No honey. No water. No spices. Just good ol apples. And a smile. Every recipe should have a smile.
So about the juicer, if you don't have one, I recommend you stop what you're doing (unless you are doing something important like eating cookies, then wait a few minutes) then rush to Amazon and buy one. This is the one I have and it's fantastic for apples, oranges, greens, everything. You know what else rules? Apple and spinach juice. I love that stuff. Not only is the juicer sexy looking (real talk), but it makes juice in seconds. It's powerful. It's relatively easy to clean and it even comes with a good little scrub brush. It comes with a anti foam cup so you can pour the juice out and not get the foam if you aren't into that. Anyways, you should get a juicer. If I was Oprah I would yell at you all "YOU'RE GETTING A JUICER! YOU'RE GETTING A JUICER! YOU'RE GETTING A JUICER!" but I'm not Oprah, so I'm sorry.
Soon we'll be going apple picking and I'll be loading up for apples to juice – do you love apple juice for the Fall?

Gather your apples. You can make apple juice from any type of apple but the juicer varieties are the best to get the most juice from. Red Delicious, Gala and Fuji are my favorite apples to use.

Depending on the size of your juicer you might have to cut your apples in half.
Some people like to remove the seeds from the apples before putting in the juicer. This is totally optional and up to you. Apple seeds do contain a small amount of a cyanide compound, but the body can handle this in small amounts without worry. Again, totally up to you. If I'm feeling lazy and want a quick juice I'm probably just going to throw the apples in whole.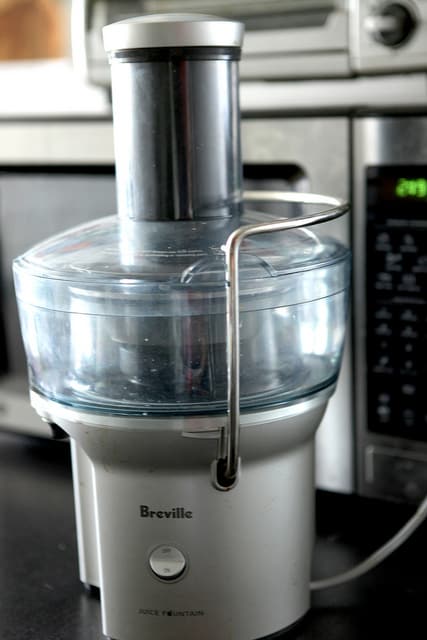 A few apples go in and the cup stars to fill up. This is the anti foam cup I was telling you about. When you pour it out into a pitcher or glass, only the juice comes out, the foam is left in this cup.

A few minutes later, a entire pitcher of apple juice was made!

This Fresh Apple Juice! is becoming a permanent fixture in our refrigerator for all meals of the day.

Grab a glass and enjoy!
Fresh Apple Juice
Easy Fresh Apple Juice recipe! Follow these simple step by step instructions on how to make fresh apple juice with a juicer!
Ingredients
Apples - Red Delicious

Gala, Fuji work best for juicing
Instructions
Wash apples.

Cut apples to fit into your juicer chute. Remove seeds (optional).

Turn juicer on and push through juicer.

Continue till you have the amount of juice you want.

Refrigerate or enjoy immediately.